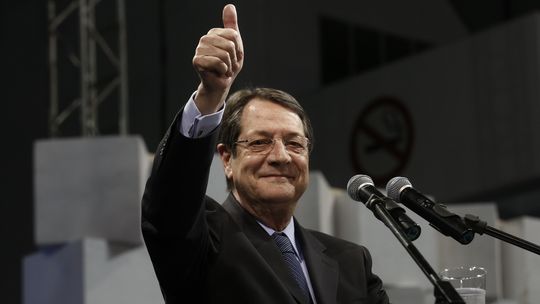 By Kyriacos Kyriacou-Nicosia
President of the Republic of Cyprus Nicos Anastasiades was admitted Thursday to a Brussels Hospital where he underwent treatment for a prolonged nosebleed possibly due to hypertension.
In a written statement, Government Spokesman Nikos Christodoulides said the President was admitted late afternoon to a Brussels Hospital, specializing in Ear, Nose and Throat (ENT) treatment, where he underwent specialized treatment.
It further said the President`s "health is in good condition" and it was his personal choice to remain in hospital overnight for "purely precautionary reasons".
Christodoulides underlined that reports that the President`s health deteriorated were unfounded. "I would like to emphasize that anything else that points to the contrary is completely unfounded", he added.
The spokesman said the President underwent nasal cauterization following a nosebleed and was admitted to a specialized hospital in the afternoon. The President is doing well and it was his choice to remain in hospital this evening for strictly precautionary reasons", he concluded.
Earlier Thursday, the President, who is in Brussels to take part in the European Council meeting, was admitted to hospital after suffering a prolonged nosebleed.
Tests at the hospital established that he was suffering from hypertension.
He was discharged after being given the appropriate treatment and was advised to remain in bed for the next 48 hours to avoid recurrence of the symptoms.
Greek Prime Minister Antonis Samaras will be representing President of the Republic of Cyprus Nicos Anastasiades at the European Council and EPP sessions, where he will present the positions of the Republic of Cyprus.
British Prime Minister David Cameron asked to be informed on the President's health from the Greek PM while European Council President Herman Van Rompuy said he will visit President Anastasiades in hospital on Friday.