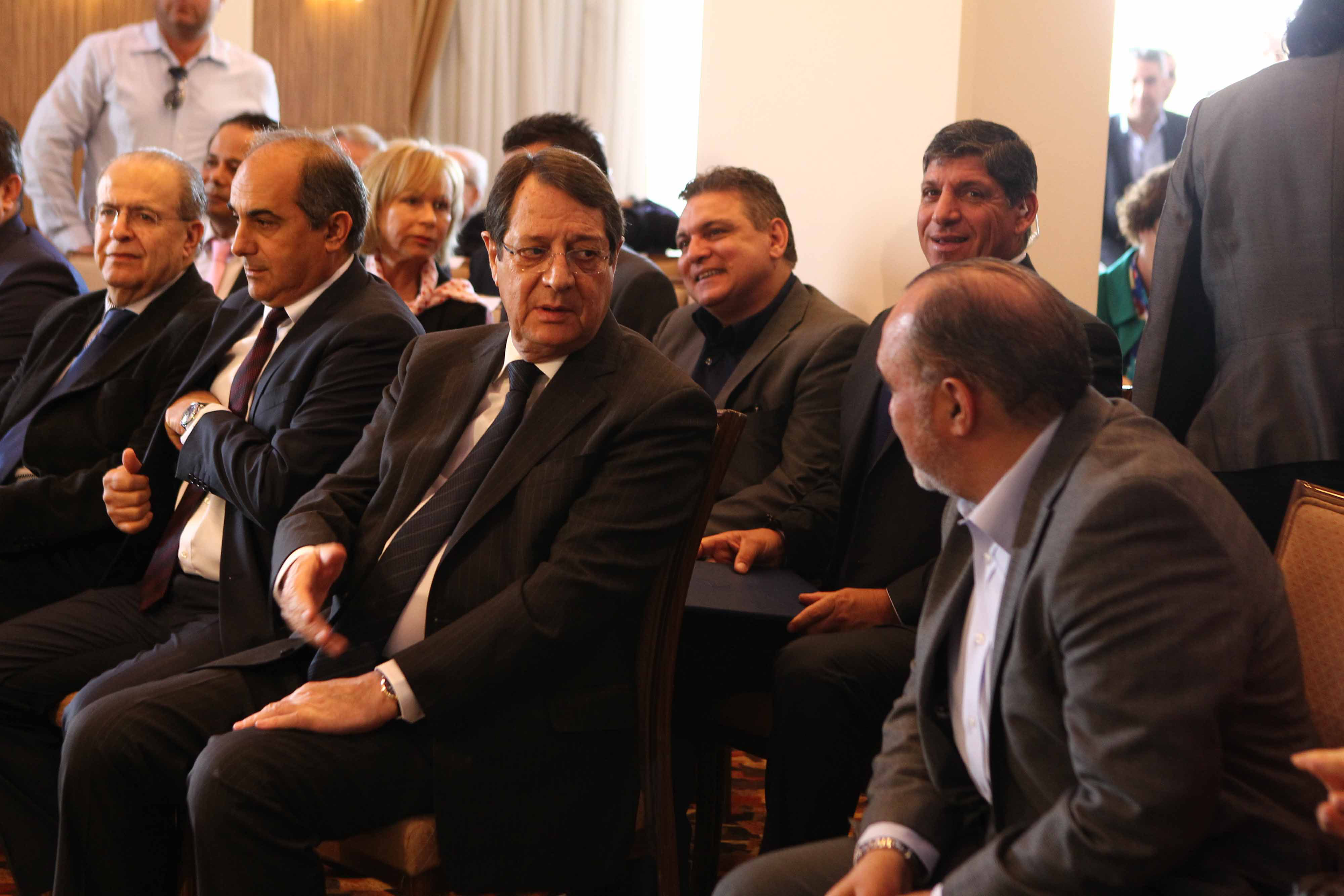 By Kyriacos Kyriacou-Nicosia
Series of contacts with leaders of opposition parties in Athens and his counterpart Karolos Papoulias to inform them on the progress regarding the peace talks to united Cyprus, President of the Republic of Cyprus Nicos Anastasiades will hold on Friday, during his visit in Greece.
He arrived on Thursday after attending the EU-Africa summit in Brussels. Information regarding the President's trip was given by government Spokesman Christos Stylianides.
During their meeting the two presidents will unveil a monument dedicated to the Cyprus national liberation struggle of 1955-1959.
Meetings with opposition leaders
The President will hold separate meetings with Panos Kamenos, President of the right-wing anti-austerity party "Independent Greeks", Demetris Koutsoumpa, General Secretary of the Greek Communist Party, Fotis Kouvelis, President of the Democratic Left and Alexis Tsipras, President of the Leader of the Coalition of the Radical Left.
The President is accompanied by Government Spokesman Stylianides and the Director of his Diplomatic Office, Nicos Christodoulides. He returns home Friday evening.
The last time he had visited the Greek capital Nikos Anastasiadis was on February 7 to inform Greece Prime Minister Antonis Samaras and Foreign Minister Evangelos Venizelos about the Joint Communiqué he had agreed with Turkish Cypriot Leader Dervis Eroglu, to restart the negotiations in uniting  Cyprus, divided since the 1974 Turkish invasion. His previous trip was very short and Nicos Anastasiades did not have the chance to inform the opposition leaders and President Papoulias, who at the time was abroad.
Russia's stand remains the same
Meantime, Russian Ambassador in Nicosia Stanislav Osadchiy has reiterated that Russia`s position on the Cyprus issue remains the same.
He was speaking after a meeting he had with Social Democratic party EDEK President Yiannakis Omirou.
He stated that Russia supported and will continue to support in future a solution in the Cyprus issue to the mutual benefit of all Cypriots. This remains our position on the Cyprus issue, he added.
"Reunification" of Crimea and Russia
Referring to the situation in Crimea, Osadchiy said that there was no annexation but rather a reunification of Crimea with Russia, underlining that Russia is now worried over the possibility of the far right coming to power in the Ukraine, something which would threaten peace in Europe.
"No similarities with Cyprus issue"
On his part Omirou thanked Osadchiy for Russia`s support throughout the years, noting that Cypriots will not forget who stood by them.
Referring to recent developments in the Ukraine he said that what happened in Crimea bears no relations to the Cyprus issue.
There are no similarities he said recalling that in Cyprus there was an effort in ethnic cleansing via the Turkish invasion and a forcible population exchange, an international crime. In Crimea, he added, a large majority of the people, of Russian descent, decided for its reunification with Russia.