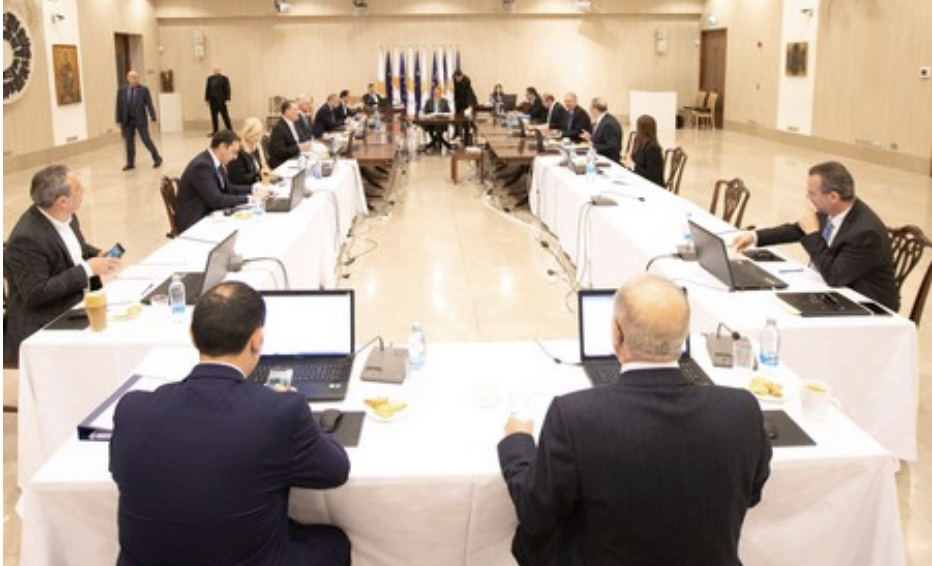 The determination and political will of the President of the Republic and the Government to shield, as much as possible, the country from corruption was emphasized during the meeting held today at the Presidential Palace under the President of the Republic Nicos Anastasiades and state bodies for the issue of combating corruption.
Speaking to reporters at the Presidential Palace after the meeting, Government Spokesman Kyriakos Kousios said that "the President of the Republic, Nicos Anastasiades, chaired today at the Presidential Palace a wide-ranging meeting on transparency, accountability and the fight against corruption.
The meeting was attended by the Speaker of the House of Representatives, the Attorney General and the Assistant Attorney General, the Minister of Justice and Public Order, the Auditor General, the President of the Pancyprian Bar Association, the Internal Audit Officer and the head of MOKAS.
During the meeting, the President of the Republic first expressed his determination and political will to shield our country from corruption as much as possible and asked for all the competent bodies, in the field of their responsibility and duties, to assist in the direction.
He pointed out that through the measures that will be taken and full transparency, the determination of all our people to fight any form of corruption must be consolidated.
Describing the existing framework of measures to be taken and full transparency, the President of the Republic informed about the bills submitted by the Government and which have already been approved by the House of Representatives and then referred to the pending bills, or those that are before the Parliament or before competent Ministries or bodies, requesting the acceleration of the relevant procedures.
In order to strengthen the safety net against corruption, the President spoke at length about the recommendations coming from relevant international organizations, such as the European Commission, GRECO and Moneyval, calling for the adoption as soon as possible of any proposals that have not yet been adopted, which even if they do not concern the executive power, should be adopted as soon as possible with the cooperation of the bodies concerned and by mutual agreement.
Afterwards, the President of the Republic, after referring to the proposals of himself and the Government, asked the participants to express their views and to submit their suggestions on this issue.
The President listened to the participants' suggestions which reinforced the proposals presented and the discussion turned into a productive dialogue.
"The President of the Republic expresses his special satisfaction and thanks for the creative interventions of the participants in the meeting, which, together with the views that will be expressed by the non-governmental organizations in the meeting convened by the President of the Republic for Monday morning, will be the final proposals to be publicly announced by the President in the coming days, in order to decisively tackle corruption through new proposals, transparency and accountability, and for the rule of law to prevail"./ibna