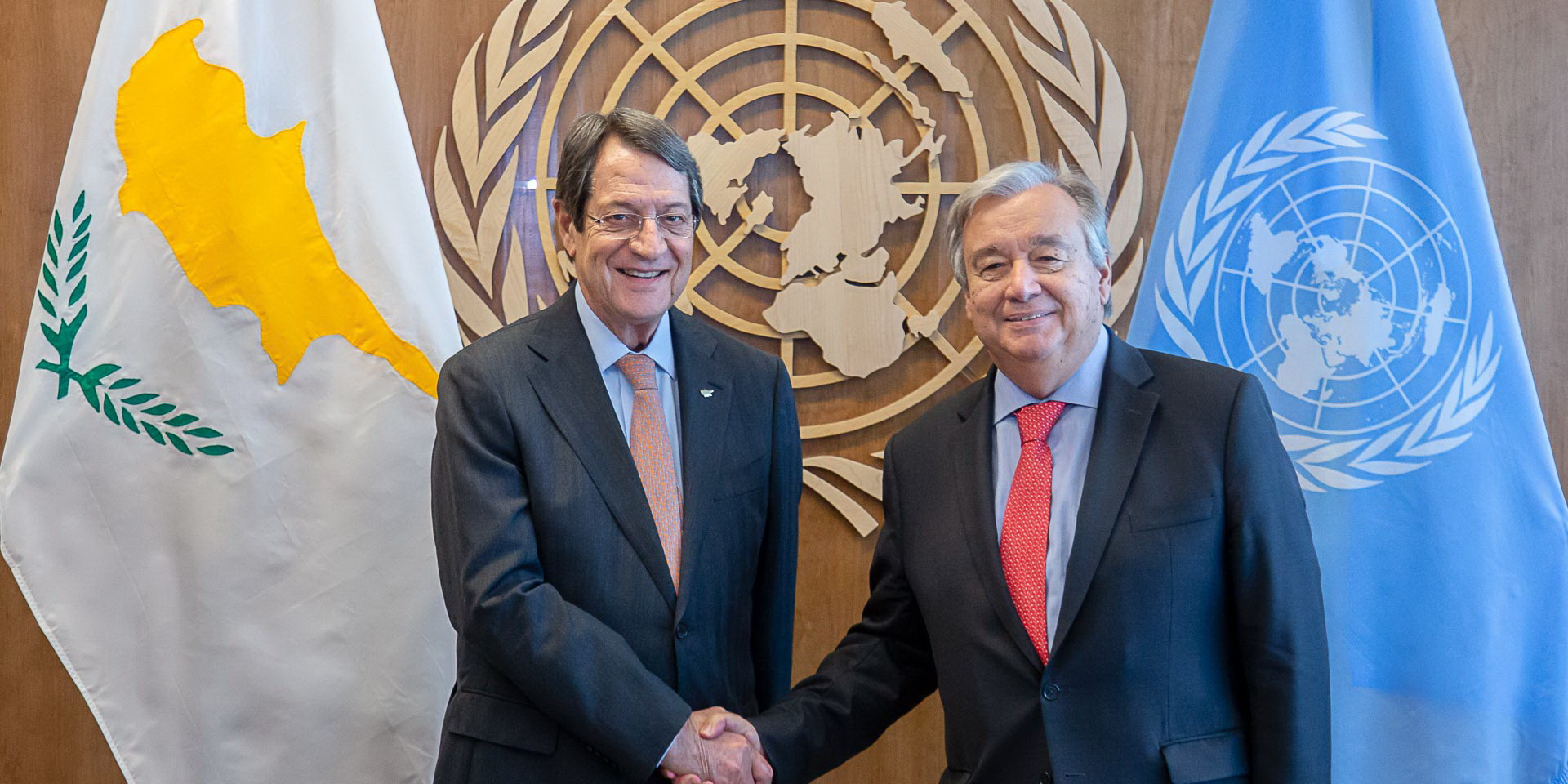 The UN Secretary General has sent a letter of invitation to the President of the Republic of Cyprus Nicos Anastasiades for his participation in the informal 5 + 1 Conference on the Cyprus issue, which will be held April 27-29 in Geneva, according to a written statement by the Government Spokesman.
Kyriakos Kousios mentions in his statement that "in his letter, the UN Secretary General states that the aim of the Conference will be to show whether there is common ground between the parties, in order to negotiate a lasting solution to the Cyprus problem".
Continuing, the Government Spokesman points out that "the President of the Republic of Cyprus has already conveyed to the UN Secretary General his determination to participate in the informal Conference on Cyprus, with full political will, in order to create the conditions for the resumption of talks to achieve a functional and sustainable solution, for the benefit of both communities".
At the informal Conference on Cyprus in the 5 + 1 format, the role of the EU in the new effort remains unclear and is one of the issues of concern to Nicosia and Athens.
The visit of the EU High Representative for Foreign Affairs and Security Policy Josep Borrell to Cyprus on March 4-5, where he will meet with the Cypriot government and the Turkish Cypriot leadership, is expected to revel EU's intentions for the new effort in the Cyprus issue.
Nicosia considers that the circumstances are such that they favor a more active role on the part of the European Union, as they consider that there is interest from Brussels for the form of the solution of the problem.
What Nicosia is interested in is whether the interest of Brussels can be translated into direct involvement. The forthcoming European Council on March 25-26, which will discuss Euro-Turkish relations and Turkey's desire for a positive outcome, is a factor in favor of a more dynamic EU engagement with the Cyprus process.
Nicos Anastasiades gives special significance in the EU factor at this time. In addition to Borrell's visit, Anastasiades is scheduled to have a telephone conversation with German Chancellor Angel Merkel on Wednesday, as he believes that Germany's stance will be the barometer of how the EU will move.
Athens, through Foreign Minister Nikos Dendias, has made it clear to European partners that it has no intention of tolerating the remission of sins in Turkey, noting that Turkey's behavior remains under scrutiny./ibna