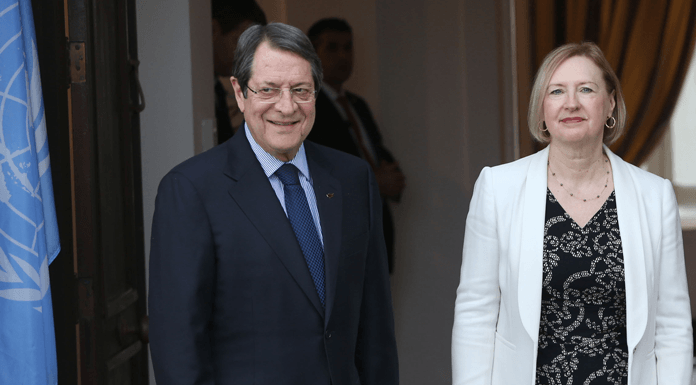 The conviction that the UNFICYP renewal mandate will include important facts that justify the need for the UN peacekeeping force to remain in Cyprus maintained today the President of the Republic of Cyprus Nicos Anastasiadies.
In a statement to reporters at the Presidential Palace, the President of the Republic, invited to speak at his meeting with UN Secretary-General Special Representative Elizabeth Spehar today, said that "it was very useful and constructive, in my view, meeting, since the aim was to study what is happening in Cyprus at this time, and of course with a view to renewing the mandate for the peacekeeping force.
I have raised some issues which, of course, must be included in the report in order to have an objectivity of facts and data as they are recorded.
I believe that at least important events that will affect the whole situation in Cyprus will be included, which also fully justify the stay of the peacekeeping force in Cyprus".
In addition, in a journalist's remark that there appears to be a de-escalation in the US conflict with Iran, President Anastasiades said that "indeed, what is being written lately is a relief.
I hope that more wise or prudent thoughts will prevail, so as to avoid a new bloodshed that would affect not only the region, but also the whole of Europe, the global economy in general, and stability in the region at large".
For her part, after the meeting, Elizabeth Spehar, in a statement to reporters and after wishing a happy New Year with new hopes, said that during the meeting she informed the President of her forthcoming trip to the US, where she will go next Saturday.
She added that a UN Security Council meeting on UNFICYP will be held on January 20 on the basis of the SG report, which will be made public in the coming days.
She also said that she would first go to Washington, where she would meet with State Department, Congressional and National Security officials, and then to New York, where she would meet with senior UN officials and Security Council members, as well as with representatives of UN member states contributing to UNFICYP.
Elizabeth Spehar hoped to have meaningful discussions with her interlocutors on the situation in Cyprus, the role of UNFICYP and the renewal of her mandate.
Asked if there are any developments on the Cyprus issue after the trilateral meeting in Berlin, Elizabeth Spehar responded in the negative, while in response to a question whether the UN Special Adviser on the Cyprus Issue, Jane Holl Lute, is scheduled to visit Cyprus, Elizabeth Spehar said that to her knowledge there is no scheduled visit./ibna