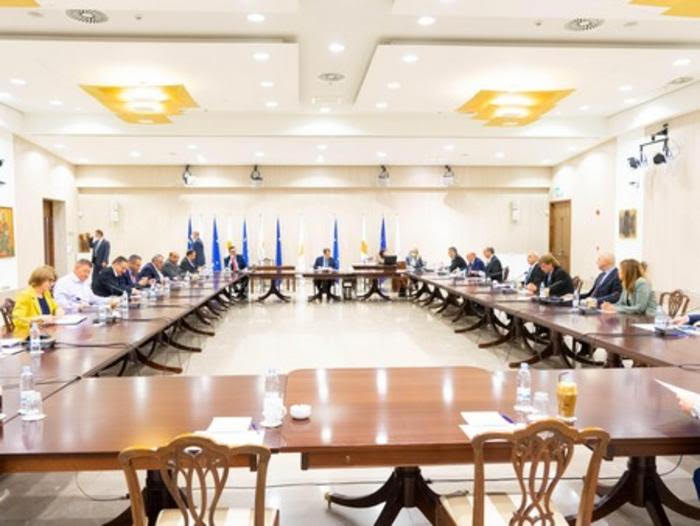 The President of the Republic of Cyprus Nicos Anastasiades chaired a meeting today, at the Presidential Palace, with representatives of KEVE, OEB, SEK, DEOK, PEO, PASYXE, STEK and ACTA, in the presence of the Ministers of Labor and Finance, in the context of social dialogue for the next phase of the Ministry of Labor's plans.
Speaking to reporters after the meeting, Deputy Government Spokesman Panagiotis Sentonas said: "The meeting was part of a social dialogue on the next phase of the Ministry of Labor's plans to support workers and businesses, that is, for the period after June 12.
The Government's priority is to support employment, but also jobs. The government is determined to do everything possible to ensure that jobs are not lost.
The formation of the Plans that will follow the period from June 13 onwards, will be based on economic activity in the various sectors of the economy, as it is formed after the lifting of restrictive measures, but also the restart of the economy. It will, of course, also depend on the economic data of the state, on the economic potential of the state.
The President of the Republic today listened very carefully to the views, proposals, but also the concerns of the social partners who participated in the meeting, and will be taken into account during the formation of the Plans.
I note that no final decisions have been made today. This social dialogue will continue in the coming days, in order to formulate the Government's proposal that will substantially support the employees and the companies, as it did in the previous period with the Plans that were decided and are in the process of implementation".
Asked if Mr. Sentonas said that "tourism is suffering a big blow, so it seems that as a sector it will continue to be supported. Exactly how the support package for employees in the tourism industry will be shaped, but also in other areas where it will become clear that support must continue, will be determined in the following period".
Asked when the final plans will take shape, Mr. Sentonas replied "as soon as possible, because the plans in force will be completed on June 12. The intention of the Government is to complete the dialogue as soon as possible so that the Cabinet can take specific decisions".
Asked if the total amount of support has been clarified, Mr. Sentonas said that "this will be determined through the fermentation that is being done, the study carried out by the Ministry of Finance in cooperation with the Ministry of Labor".
Asked if the state's capabilities are limited after the lockdown, Mr Sentonas said that "any decisions must be based on the specific capabilities of the state. The warming of the economy seems to be progressing very well in some areas, but we are still in a phase where data is changing every day, it is a dynamic situation.
The government is determined to continue to take measures that will further encourage and assist the restart of the economy and the restart of the economy means better opportunities on the part of the state and consequently greater support for the employees in need"./ibna