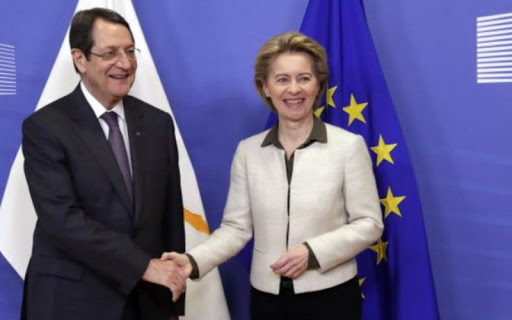 Yesterday afternoon, the President of the Republic of Cyprus, Nicos Anastasiades, had a scheduled telephone conversation with the President of the European Commission, Ursula von der Leyen.
The discussion focused on the Multiannual Fiscal Framework for 2021-2027 and the EU's Recovery Plan, in view of the forthcoming European Council Summit on 19 June, which will be held in the form of a teleconference, says government speaker Kyriakos Kousiou in a statement.
President Anastasiades described the Commission's proposal as a good basis for discussion and presented in detail the positions and demands of the Republic of Cyprus.
He reiterated the peculiarities of Cyprus due to its geographical location and the problems of connectivity it faces, as an island Member State, but also the disproportionate immigration pressures, asking the Commission to contribute to addressing all these different challenges. He also noted that the Cypriot economy, which is based on tourism and services, has been hit hard, drawing the European Commission's attention to the need for further EU support.
President Anastasiades assured President von der Leyen that Cyprus would contribute constructively to the efforts to reach a final agreement, recognizing the importance of reaching an agreement in a timely manner.
For her part, the President of the European Commission thanked for the constructive stance of Cyprus, and congratulated on the way it dealed with the pandemic and the management of the current situation.
The President of the Republic also briefed the President of the European Commission on the latest developments in the Eastern Mediterranean region and the ongoing Turkish delinquency within the maritime zones of the Republic of Cyprus.
He also highlighted Turkey's destabilizing role in the Eastern Mediterranean, whose illegal actions jeopardize the security and stability of the wider region, and stressed the need for more decisive EU action to stop the unacceptable and Turkish pursuits and to put further pressure on Ankara, both to end its illegal drilling and to avoid incidents that would undermine stability and security in the region.
The President of the Republic, after informing the President of the European Commission about the bilateral contacts he had with EU heads of state and leaders of European institutions, pointed out that there is an understanding regarding the condemnation of Turkey's illegal actions and the need for coordination and determination regarding the next steps. Finally, it was agreed that they remain in touch for all current developments, says the Government Spokesman./ibna