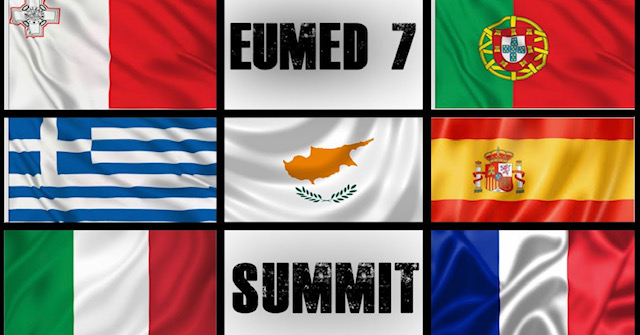 The Cyprus issue, the Turkish provocations in the Eastern Mediterranean and Turkey's threats to settle the enclosed city of Famagusta will be discussed at tomorrow's summit of the seven Mediterranean states, said Deputy Government Spokesman Panagiotis Sedonas.
Speaking to reporters at the Presidential Palace today, the Deputy Spokesman said that "the President of the Republic will depart tomorrow for Corsica, where he will attend the MED7 Summit at the invitation of the President of France Emmanuel Macron.
The Summit of the Seven Mediterranean States will take place in Corsica, France, on 10 September. This is the seventh session in a row and follows those of Athens, Lisbon, Madrid, Rome, Nicosia and Malta. The summit will be attended by the seven heads of state of the EU Mediterranean countries.
The aim of the Summit is to coordinate, seek convergence and define common positions of the seven countries on issues concerning the course of the EU, the future of Europe and the current challenges the EU is faced with. More specifically, the Summit will focus on promoting peace and stability throughout the Mediterranean, but also the search for a new ambitious Mediterranean policy based on the principles and values ​​of the countries, but also in the interests of the Mediterranean states participating in the Summit.
The President of the Republic will brief the participating leaders on the ongoing illegal actions of Turkey within the maritime zones of the Republic of Cyprus, on the Turkish threats to settle the enclosed city of Varosha, as well as on the latest developments in the Cyprus issue and the initiatives he undertakes for the resumption of talks.
The summit will also address other issues related to regional developments, such as developments in Libya, Lebanon, Syria and the Middle East peace process.
The Summit will focus on current issues on the European agenda, which are the main challenges for the seven Mediterranean countries, such as, for example, Migration, the management of the economy, while the impact of the coronavirus pandemic and of course the issue of Climate Change and Brexit will also be discussed.
A Joint Declaration of the seven Mediterranean states is expected to be issued after the conclusion of the summit"./ibna