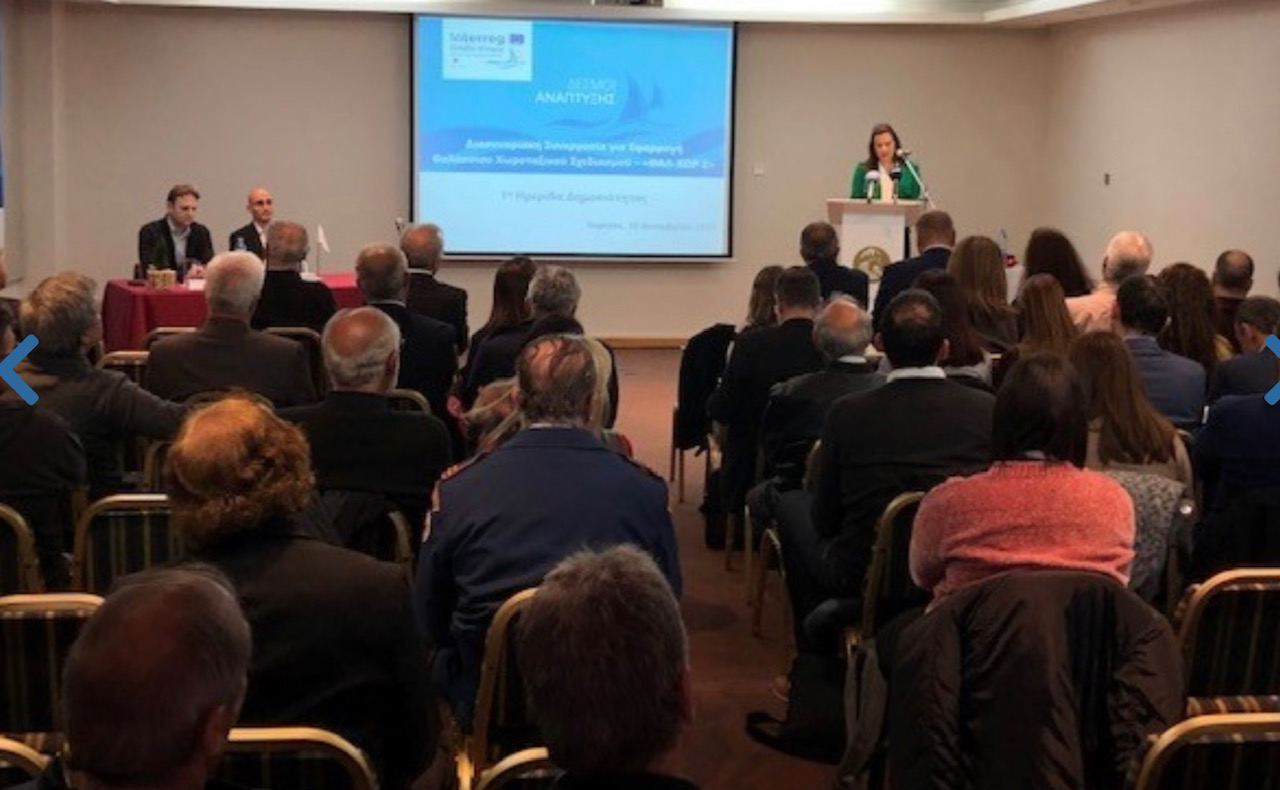 The Deputy Ministry of Maritime Affairs of the Republic of Cyprus, at an official meeting held on 12 December 2019, presented the project "Cross-Border Cooperation for the Implementation of Marine Spatial Planning" with the acronym "THAL-CHOR 2", a project of strategic nature for Greece.
The project is part of the Directive 2014/89 / EU on the implementation of maritime spatial planning, as well as of the policies related to the protection and management of the marine environment and coastal zones promoted by the European Union, such as the Integrated Maritime Policy, f the Framework Directive on Marine Strategy and the Protocol on Integrated Mediterranean Coastal Zone Management.
In addition, the project is in line with the European Union's Blue Growth Strategy with a view to enhancing the dynamics of blue economy in areas critical to the Cypriot and Greek economies, such as shipping, fisheries, energy, as well as the maritime and coast tourism.
The Deputy Minister of Maritime Affairs, Ms. Natasa Pilides, in her welcoming remarks underlined that the Ministry of Maritime Affairs would adhere strictly to all the procedures provided by the relevant Law for sustainable development in the maritime waters of Cyprus. Applying an ecosystem-based approach, she added, which would entail all the economic, social, environmental and cultural aspects in force, would ensure the good environmental status of Cyprus's maritime space.
Furthermore, she emphasized that the Ministry of Shipping invests in cross-border projects related to its competence and has been involved in co-financed projects with great success and significant results for the Ministry and Cyprus in general.
The following actions were announced as part of the project:
Investigation and mapping of marine and coastal space by recording the current situation.
Marine database enrichment/updating.
WebGIS development/update.
Preparation of the Maritime Spatial Planning (MSP) Policy Statement of Cyprus.
Specialization of spatial planning policy in the islands under the Greek MSP.
Establishment of national or regional maritime spatial plans in Cyprus and Greece.
MSP constitutes a key tool in the European Union's Integrated Maritime Policy (IMP) and is an important instrument for the sustainable development of maritime zones and coastal regions, while also contributing to the objectives of ecosystem-based management, according to Directive 2014/89 / EU which provides the establishment of a framework for maritime spatial planning.
Finally, it is noted that MSP is defined as a public process of spatial and temporal analysis and distribution of human activities in marine areas to achieve ecological, economic and social objectives. Its conclusion is a "maritime spatial plan" that reflects the vision of each state for the exploitation and sustainable development of its maritime space. /ibna