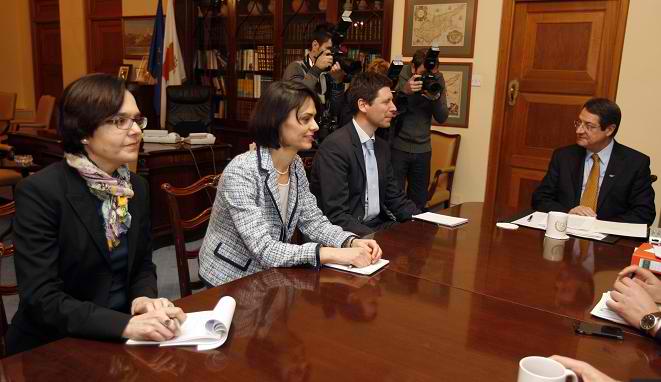 By Thanasis Gavos – London
Lingering over the economy as a dark shadow the uncertain fate of the Bank of Cyprus adds insult and further injury to the inflicted collective trauma of the Cypriot people. Claiming that the bank is "mega-systemic", in a letter to the heads of the institutions comprising the troika of creditors President Anastasiades noted, inter alia, that there needs to be a quick solution to the bank's predicament.
In a scathing yet dignified criticism of the troika, generally welcomed even by the opposition, Mr Anastasiades declared the 'bail-in' of the banking sector of the island as not properly planned. With specific emphasis to the Bank of Cyprus, he reminded the IMF, EU and ECB heads, as well as everyone else by means of the letter becoming public, that the bank has found itself to the current hazardous situation due to the lack of protection during the Greek PSI, the restrictions in bank transactions and the enforced burden of the Laiki's ELA liability.
As it has been happening since the first Greek bailout, the letter exposes self-evident failures of the troika reasoning and action plan, assuming there is one. It has rightly been repeatedly said that Cyprus has made many mistakes. But like the unprecedented decision by the Greek government to shut -even if for a few months- the public broadcaster, the troika stance seems astonishingly reckless; often the guise of an intentionally immoral and dangerous act.
The extent of the fresh government's mistakes and diffidence will be determined at some point when attributing detailed responsibility won't carry the threat of further undermining the economy and endangering the country's future. But the island's predicament and the eloquent way in which the letter exposes the creditors' faults only serve as further proof that the troika vehicle has run out of gas.
Talk of troika reaching the end of the road under its current form has abounded following the IMF's mea culpa over the first bailout of Greece. The government needs to be more vocal in highlighting the creditors' insufficiency and ideological zeal, contributing to either a change in policy and theoretical approach by the troika or to its downfall.