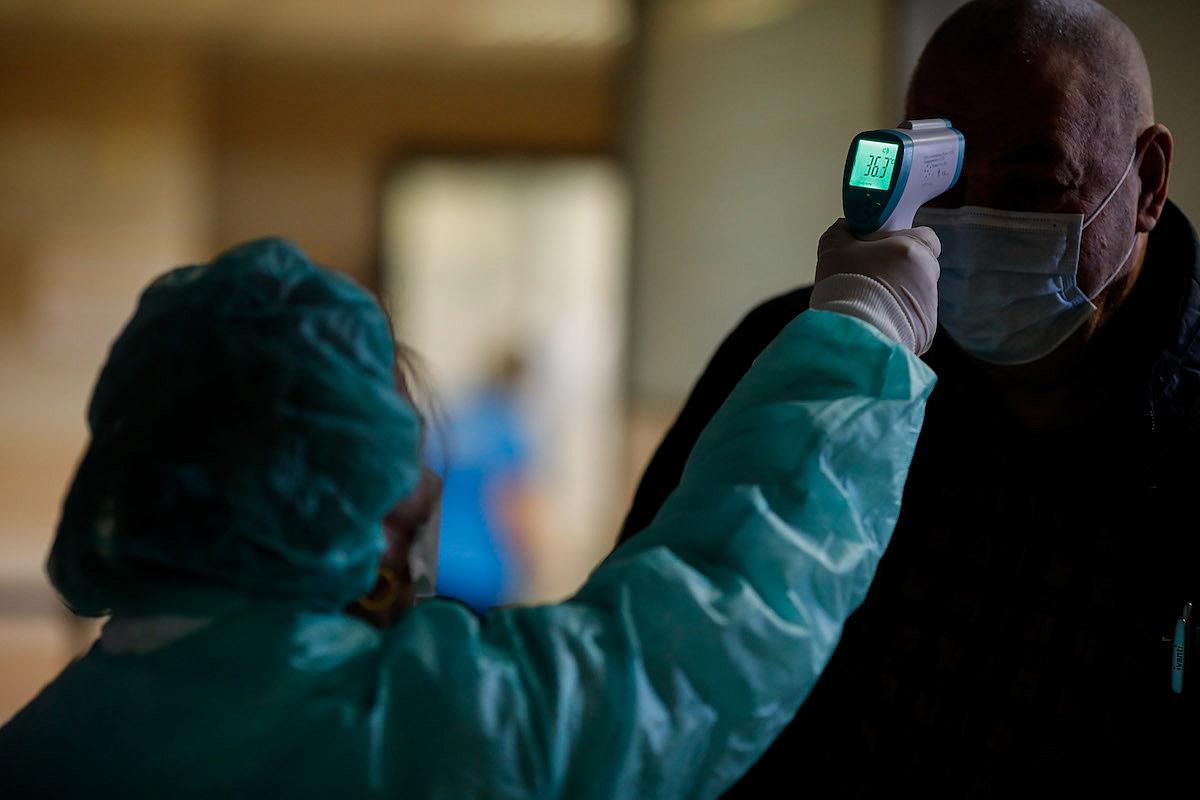 As the Epidemiological Surveillance Unit of the Health Ministry of the Republic of Cyprus announced the launching of an investigation on a possible case of coronavirus involving a soldier, who was detained today after experiencing a symptom that indicates respiratory infection, the Health Minister participated in the extraordinary EU Health Ministers' meeting.
As for the young man from Greece under investigation for coronavirus, according to a statement from by Ministry of Health, he recently visited his family and it is possible that he came in contact with one of the confirmed cases. All appropriate procedures have been activated and the authorities responsible for the incident management are alert. The sample will be sent for analysis to the Cyprus Institute of Neurology & Genetics and relevant announcements will be made as soon as the results are available.
Cypriot Minister of Health Konstantinos Ioannou noted he was pleased with the guidelines on coronavirus and with the efforts being made in Europe to supply states with medicines and consumables, in a statement after the extraordinary meeting of Health Ministers held today in Brussels. Citing information from the European Center for Disease Prevention and Control (ECDC), Mr. Ioannou stressed that a large increase in new coronavirus incidents was expected in Europe.
In particular, he underlined that "from the information we have received from ECDC, over the next few days or weeks we should expect a large increase in incidents in Europe, as we are no longer talking about cases imported from third countries, since the virus is now spreading from within the countries".
The Minister of Health welcomed the report of the Director of the European Medicines Agency for preventing a possible shortage of medicines in the event of a pandemic, a possibility that would cause particular concern to a small country like Cyprus. "Another issue we are concerned about is the provision of protective material and consumables for health professionals", he said and continued: "We raised this issue two weeks ago and I was pleased to hear that the offers would be completed on Monday and, therefore, without any specific timetables, we expect this process to be completed in the coming weeks".
Mr. Ioannou said that from his colleagues' statements on the measures taken by other countries, he was pleased to find that "Cyprus has adopted the most rigorous protocols, in particular in the field of information, self-protection and the handling of suspicious or confirmed cases".
Taking the floor during the meeting of the EU Health Ministers, Mr. Ioannou also said that recent developments called for preparedness and new steps at Community and national level. He stressed that managing large media constituted a daunting task, and to this end he suggested creating a central structure for managing and issuing documents with data so that the same information would not be recycled, and that misinformation and panic were avoided.
"Accurate information will prevent misinformation, and it is interesting to see how the Commission will help us on that", Ioannou added. He also argued that it was crucial to have a central European point to constantly monitor in which countries the virus wastransmitted. "This monitoring will help European states develop a common policy on the tests that must be carried out". Protecting public health forces us to consider measures that could temporarily restrict traffic between our territories. Right at this moment there are no confirmed cases in Cyprus, but we expect that to happen in the next few hours or days. Our national preparedness is improved thanks to measures fully aligned with the European Center for Disease Prevention and Control (ECDC), but even more stringent in many cases.
In Cyprus both treatment and prevention and preparedness are regulated by an independent mechanism, and we attach the same importance in all three phases; control measures have been adopted at checkpoints and barricades on roads to the occupied territories not controlled by the Republic of Cyprus. We have carried out a treatment program only for suspected cases. As for the Commission's measures, I emphasize that Cyprus considers the guidelines of ECDC to be valuable for the protocols on the timely implementation of preparedness, for response measures and the continuous updating of the epidemiological situation, while a prompt risk assessment helps us implement the measures we need right away. We also appreciate that there was the Coronavirus Response Team set up by the President of the Commission and the common public procurement mechanism for protective equipment, something that many of us had requested in our latest meeting in Brussels. Right now, our main concern remains to see whether the equipment arrives on time. Such a mechanism would allow the commission to carry out a fast shipment. Potential medicine shortages are another source of great concern and we need to coordinate on that matter. I was also pleased to hear the Director of the European Medicines Agency say that initiatives were being taken to address these issues. Coronavirus has arrived at a critical time in Europe with the latest numbers from Italy and other countries serving as proof; therefore, we need to collectively look into issues of shortages, mainly when it comes to protective equipment". /ibna