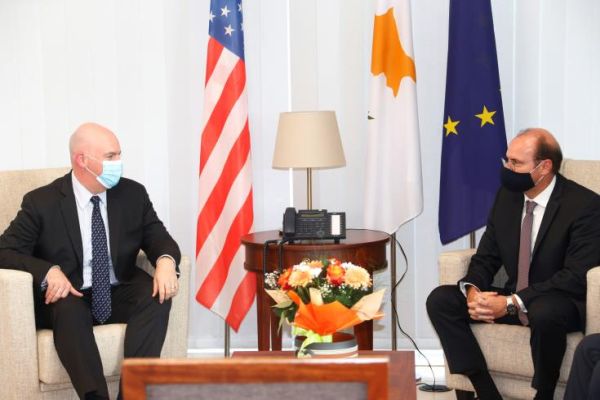 The Minister of Defense of the Republic of Cyprus Charalambos Petridis had a meeting today with US Assistant Secretary of State in charge of civil-military affairs R. Clarke Cooper. Cooper was accompanied by the US Ambassador to Cyprus, Judith Garber.
The meeting was held in a very warm and friendly atmosphere while issues of bilateral interest were discussed with emphasis on the further deepening of the defense cooperation between the Republic of Cyprus and the USA. The enhanced strategic relationship between the two countries in the field of defense and security was underlined and ways to further promote these relations were discussed. The illegal and aggressive actions of Turkey in the EEZ and the enclosed city of Famagusta, which destabilize the region in general, were also discussed.
Charalambos Petrides welcomed the decision of the American government to temporarily lift the embargo on the sale of "non-lethal weapons" (non-lethal weapons) to the Republic of Cyprus and stressed its importance. A decision that is fully in line with the commitments set out with the signing of the Statement of Intent in 2018.
In addition, he welcomed the recent US decision to provide International Military Education and Training (IMET) to the National Guard, which will contribute substantially to the professional training of the members of the Republic's Armed Forces. To implement this initiative, an invitation has already been sent by the USA for the participation of National Guard personnel in trainings for 2021.
Furthermore, the Minister of Defense proposed specific actions, which may be implemented in the future, to upgrade the strategic relations in matters of security and defense.
In this context, it was proposed to establish a program of bilateral military cooperation between Cyprus and the United States, which includes regular joint military activities or search and rescue exercises between the armed forces of the two countries on an annual basis.
They also discussed the establishment of a mechanism for a permanent structured dialogue between the US and the Republic of Cyprus on defense and security issues, with the aim of holding high-level meetings on an annual basis.
Finally, Clarke Cooper, accompanied by Charalambos Petrides, went to the Search and Rescue Coordination Center where he was briefed on the Centre's capabilities in search and rescue and support for humanitarian operations in the area./ibna