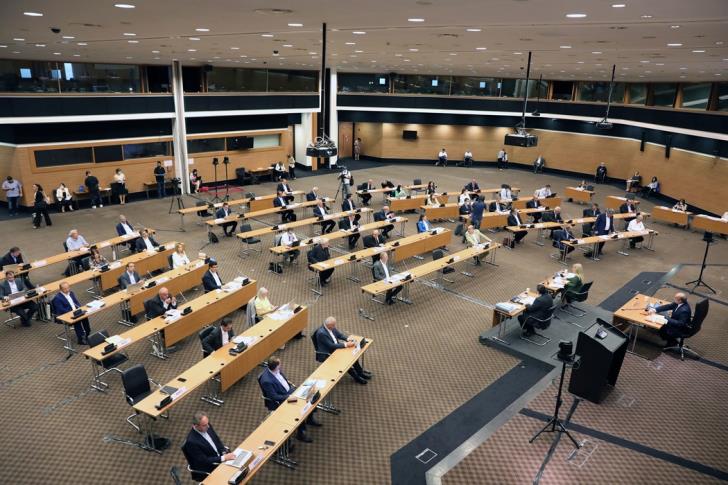 With 26 votes in favor and 30 votes against, the Parliament voted against the proposal for the self-dissolution of the House, following a draft decision tabled by the Movement of Ecologists – Citizens' Cooperation and independent MP Anna Theologou. The deputies of AKEL, DIKO, the Alliance, the Cooperation of the Democratic Forces and the Solidarity Movement voted against the proposal.
At the same time, the Plenary referred to the competent Committees law proposals submitted by the Movement of Ecologists, Citizens' Cooperation and ELAM.
During the Plenary session, the resolution of the Ecologists' Movement was debated upon, which proposed the resignation of the government, apart from the Parliament, for which it was decided to refer the resolution to the Legal Committee (due to invocation of constitutional issues), causing reactions by the Ecologists and Anna Theologou.
Earlier, AKEL MP Adamos Adamou was elected the 12th Speaker of the Cypriot Parliament without an opponent, garnering the votes of the vast majority of MPs, except for the ELAM deputies.
At the same time, during today's session of the Plenary Session of the Parliament, the new MPs, AKELs's Yannakis Gavriel and Roula Georgiadou from the Solidarity Movement, were sworn in.
Following his announcement, the President of the Republic Nicos Anastasiades congratulated Mr. Adamos Adamou on his election to the Presidency of the House of Representatives.
The President of the Republic wished the new Speaker of Parliament good luck in the difficult task he undertakes, expressing certainty that their cooperation would be good, among other things, for the promotion of the necessary reforms that the country and the society need. /ibna