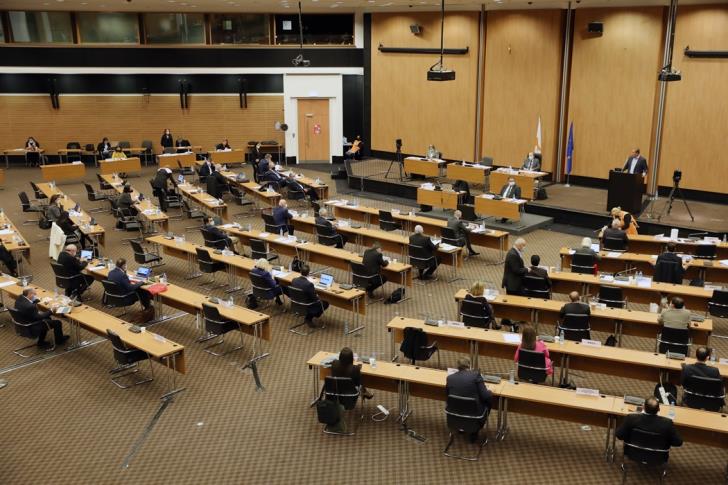 The House of Representatives voted against the 2021 state budget during the plenary session. Specifically, 24 deputies voted in favor and 29 against. Out of the total 24 who voted for the budget, 18 were Democratic Rally (DISY) MPs, two derived from the Solidarity Movement, two were present MPs from the Cooperation of Democratic Forces, while an additional two were ELAM MPs.
A total of 29 Members of Parliament voted against: the 16 MPs of AKEL; six present Democratic Party (DIKO) MPs; the three EDEK MPs (Movement for Social Democracy); the two MPs of the Movement of Ecologists-Citizens' Cooperation; the MP of the Citizens' Alliance and "Independent" MP Anna Theologou.
Furthermore, with 50 votes in favor and no abstentions or votes against, the Plenary Session of the Parliament approved a Draft Decision authorizing the expenditure from the account of the Fixed Fund for the fiscal year 2021 (twelfths).
The government intends to submit a budget for 2021 to the Parliament again in January, after the bill was rejected today by the House, Finance Minister Konstantinos Petrides announced when he took the floor in Parliament, expressing hope that the budget will be voted and normalcy will return.
Referring to today's vote against the 2021 budget, the President of the Republic of Cyprus Nicos Anastasiades expressed his deep sadness and disappointment, noting in a written statement that "what will be recorded in the 60-year history of the Republic of Cyprus for the first time is the vote against the budget, and in fact for reasons opposing the philosophy of the bill".
He went on to say that "I fully understand and respect the positions of the parties, which, either as a result of a different economic view or individual views on policy areas, took a negative stance in approving the state budget."
"But what I do not understand," Anastasiades underlined, "is the negative vote of the Democratic Party, which is attempting to blackmail the legally elected Government and neutralize other independent institutions."
"The ongoing behavior of the Democratic Party does not serve the stated goal, nor the well-meaning interests of a society that, under the unprecedented conditions we are experiencing today, is in absolute need of state support."
"The non-voting of the budget does not punish the Government; it punishes the companies that are facing today the danger of bankruptcy; those in danger of losing their jobs due to the painful measures; the vulnerable groups in need of the Minimum Guaranteed Income and the low-income pensioners," Anastasiades said in his statement.
"They punish those who need an effective health system; they punish those who anxiously await vaccination and an effective response to the pandemic."
Concluding his statement, President Anastasiades stressed "I want to assure that the Government will not allow citizens to pay the cost of blackmailing a party. In the coming days, we will continue the creative dialogue with the rest of the political forces in order to achieve the budget vote as soon as possible." /ibna