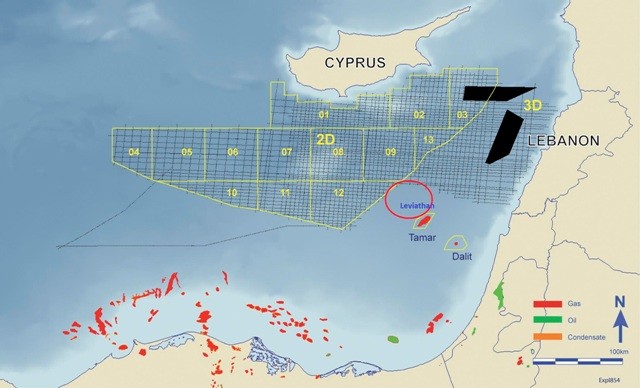 By Christos Meliopoulos – Nicosia
The positive news all along the banking and economic crisis that has befallen the island have been the developments over the natural gas reserves within its Exclusive Economic Zone. Now it seems that the country's appetite has been whetted and that it's decided to literally dig a little deeper, in quest of oil.
Reports in Cyprus say that Noble, the American energy giant that has undertaken the gas exploration project, is keen to drill in the Aphrodite hydrocarbon field after testing the waters and the seabed in the neighbouring Israeli zone, in the rich Leviathan field. The Leviathan oil exploration is set to begin at the end of the year, in a joint venture with the local company Anver. According to estimations, Israel could be sitting by up to 1.7 billion barrels of oil, enough to cover its energy needs for 15 years.
The Cypriot government was always bound to explore the oil option once the gas adventure had started, say people with years of experience in international energy issues. The fact that the interest in the eastern Mediterranean has been growing steadily, with special regard to Israel, has probably brought plans forward. Cypriot officials have said that things could be further expedited. "It may actually make more sense for Noble or any other company for that matter to work on the Israeli and Cypriot drilling simultaneously, once they have the first positive results in the Leviathan. This way they could multiply their advantage over their competitors and hit gold faster; black gold that is," an energy analyst from London who follows things closely told IBNA.
As for the Cypriot authorities, they understand that oil is easier to export than gas, as it is easier to transport. At the same time though they know that getting everything ready for drilling in depths that far exceed the location of the natural reserves and for building the necessary temporary storage facilities is another huge undertaking. Officials have said that should things move along, it would be 5 to 10 years until Cyprus is in a position to say it can export and make profit out of oil.
The more optimistic see that point coinciding with the first natural gas exports. "Cypriots should not let all these get to their head. It's much much easier planned than done. There are many ifs and Cyprus cannot do anything alone. It's not impossible, but people should not get overexcited," remarked the London energy analyst.