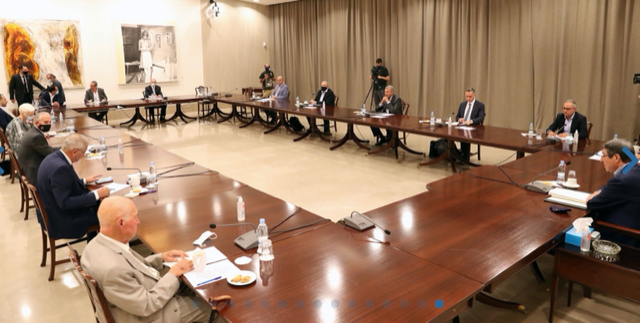 Speaking to reporters after the National Council meeting, which took place on Tuesday night at the Presidential Palace, the President of the Republic of Cyprus Nicos Anastasiades said that the announcement of the National Council expresses everyone's position to condemn what Turkey has decided today (yesterday), in violation of United Nations resolutions and Security Council resolutions. "It is considered a highly unacceptable situation", he said.
After the meeting, Government Spokesman Kyriakos Kousios read a joint statement by the National Council.
As Mr. Kousios stated: "The National Council, during today's (yesterday's) session, in addition to the information received by the President of the Republic and the views expressed by the political parties, focused mainly on today's (yesterday's) illegal action of Turkey in relation to the coastal front of the enclosed area of ​​Varosha.
The National Council:
Strongly condemns Turkey's current actions, which violate the relevant UN Security Council resolutions, in particular UN Security Council Resolutions 550 (1984) and 789 (1992), and calls on Turkey to withdraw and comply with the above resolutions. The second paragraph is the one in which ELAM disagrees.
Reiterates the readiness of the Greek Cypriot side to participate in a fruitful dialogue for the settlement of the Cyprus problem, away from threats and fait accompli, on the basis of the framework as defined by the relevant UN resolutions, Security Council decisions and EU principles and values, a member of which the Republic of Cyprus is and will remain"./ibna