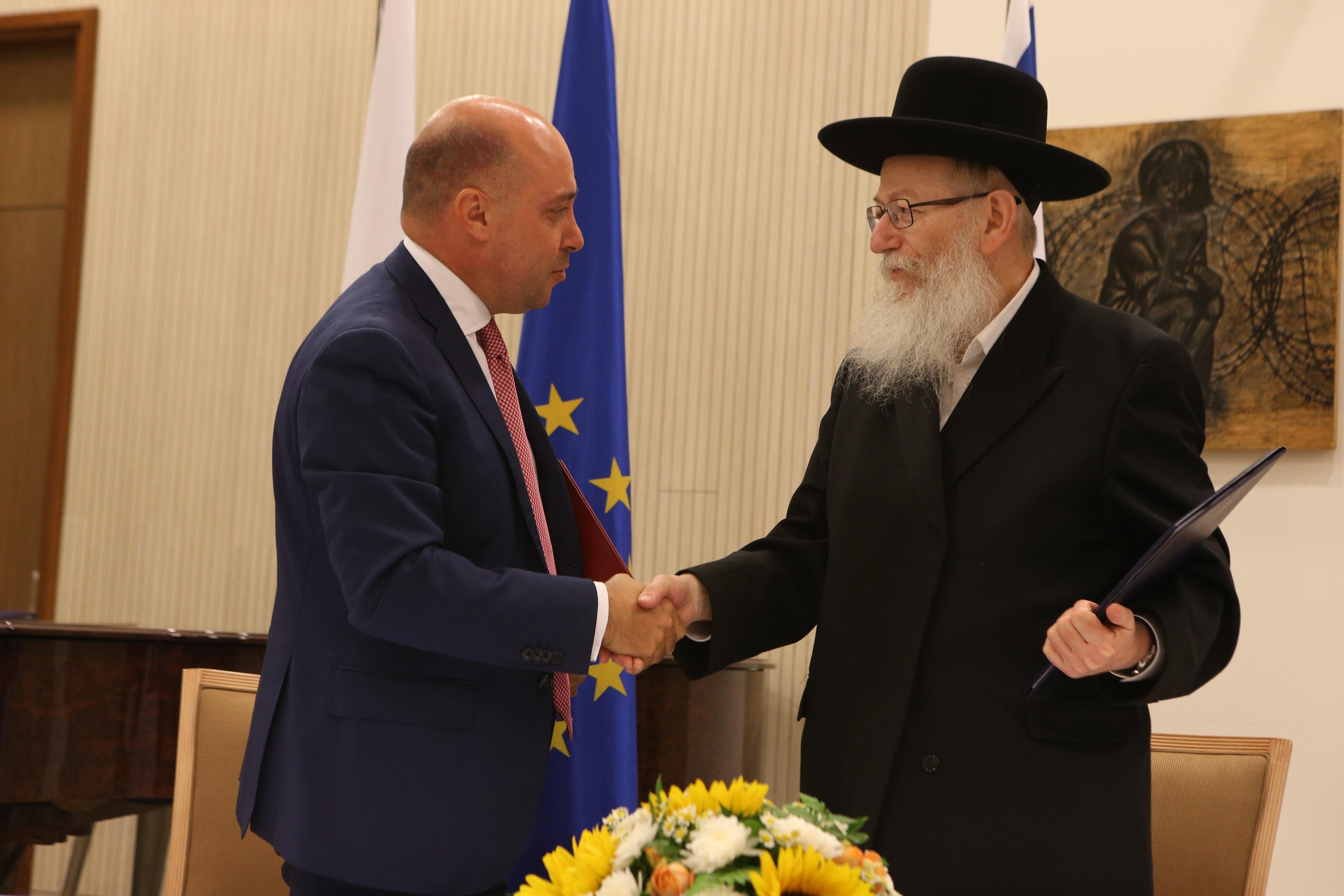 A Memorandum of Understanding for cooperation between the Ministries of Health of Cyprus and Israel in the field of joint paired exchange of Kidney transplantation was signed today, 20 June 2017, in Nicosia. This cooperation is an excellent opportunity for the two countries to benefit their citizens whom otherwise would not be able to have kidney transplants, by creating a larger pool of potential donors and increases the chances for successful organ exchange between donor-recipient pairs that otherwise could not be transplanted. The program aims at helping patients in need for kidney transplantation and have a living donor available, but there are not compatible with each other.
In statements, Mr Yakov Litzman, the Israeli Minister of Health, said: "It is an important medical agreement that could save lives of Cypriots and Israelis. I consider it as a national mission. The agreement strengthen the relations with our close neighbor and friend both medically and in general."
"The excellent results of the Cyprus Transplant Centre have been recognized at international level, a fact that is also confirmed by the today's signed cooperation with Israel, a country with a well recognized experience in the field of Transplantations", said the Minister of Health of the Republic of Cyprus, Dr. George Pamboridis, "and consist a part of the continuous upgrade of the provided services through the Cyprus Transplantation Centre. Initiatives like the current one shall become the lighthouse of our efforts for assuring a quality life and fully reintegrate into society".
The scheme in its current form is proved to be reliable and is being conducted in developed countries worldwide with great success in kidney transplantations. Israel has been running this since 2000, USA since 2001, the Netherlands since 2004 and Great Britain since 2007.
Signing of the memorandum is the result of a joined effort between the specialists in the area of transplantations from the two countries, as well as of the Transplant Centre of the State of Israel and the Transplant Council of the Republic of Cyprus.
The agreement was signed by the two Ministers during a bilateral meeting held on the occasion of an official tripartite meeting of the Ministers of Health of the Republic of Cyprus, of the State of Israel and of the Hellenic Republic, held in Nicosia on the 20th of June 2017./IBNA
Photo: pio.gov.cy