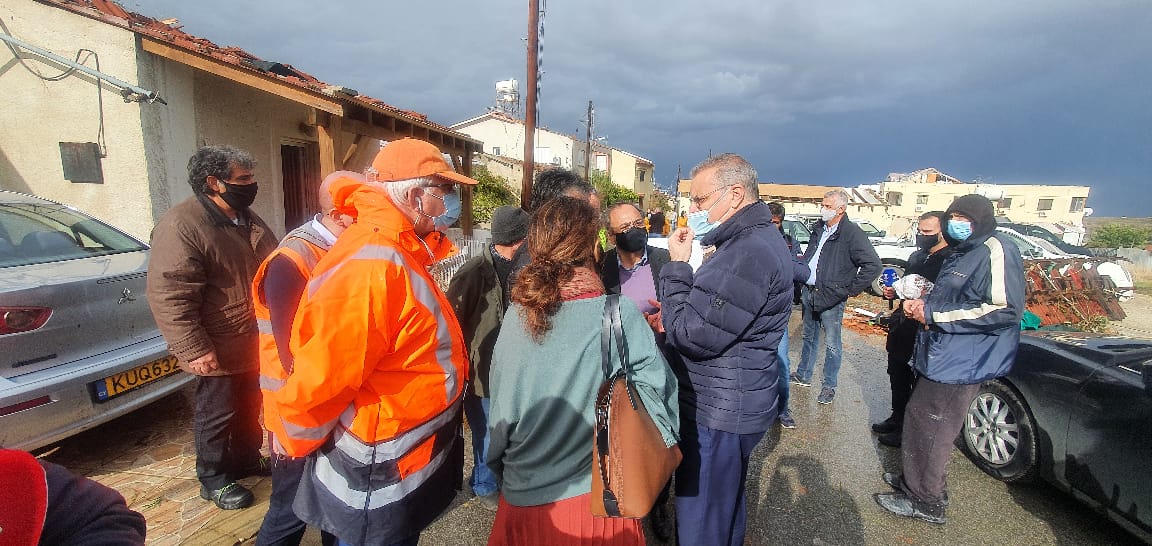 Minister of Interior Nikos Nouris visited the areas of the Nicosia District affected by the tornado, in order to assess the damage on the ground.
In his statements, he said that "the Ministry of Interior, the Civil Defense, the Ministry of Agriculture have been on foot since this morning. The crews of the District Administration have already been dispatched to the affected area. Our number one priority, of course, was to address people's immediate needs. We are already transferring two families from Nikitari whose houses were deemed uninhabitable to a hotel in Nicosia. If problems arise elsewhere, everyone will be transferred." From there on, Nouris added, the assessment will follow and the damage is already being recorded.
He noted that he had contacted the Cyprus Electricity Authority (EAC). "A very big effort is being made because the area in which there has been a power outage is also large, but we are trying to restore electricity by nightfall in all areas," he said.
"My colleague, the Minister of Agriculture, who is currently traveling abroad, certainly cannot be here; but as for the affected livestock farms and agriculture issues, we will address them. The Council of Ministers will be informed at next Wednesday's session," the minister said. "Fortunately we did not have any casualties, that is the important thing for us. Everything else will be restored," he stressed.
"Already after the completion of this short tour, the Interior Ministry we will be subsidizing those people whose houses are deemed uninhabitable with an amount of 2,000 euros to cover their expenses during these festive days. And, of course, the assessment of the damage will follow so that we can then estimate how we can support all these people who have suffered damages," he said, noting that something similar will be done in the livestock areas. /ibna