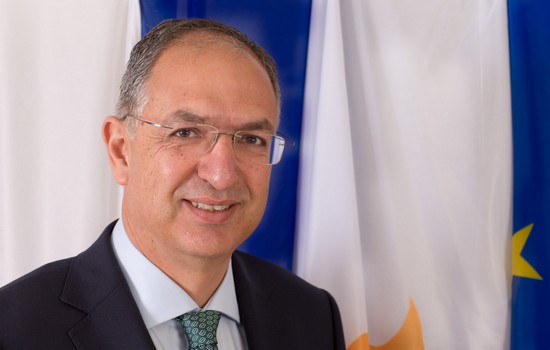 The Minister of Agriculture, Rural Development and Environment of Cyprus, Costas Kadis, met today with representatives of the Agricultural Organizations. During the meeting, which was held amidst a constructive atmosphere, issues related to the further support of the rural world were discussed, especially after the problems that have arisen due to the restrictive measures imposed to tackle the coronavirus pandemic.
On the issue of supporting the sheep and goat industry, one of the sectors most affected by the pandemic, the Minister informed the representatives of the Agricultural Organizations that, during tomorrow's meeting of the Council of Ministers, he would be submitting a Proposal for financial support for sheep and goat farmers. The Proposal provides for a per capita subsidy for farmers, taking into account the loss of income due to reduced demand and low prices, as well as the costs of raising and managing animals that have not been disposed of.
In addition, the Agricultural Organizations were informed by the Minister of a recent letter from the EU Commissioner for Agriculture addressed to him, according to which each Member State will be able to implement, using European resources, the aid measure for storing sheep and goat meat. Based on this measure, sheep and goat farmers, under certain terms and conditions, will be able to temporarily withdraw their production of meat by storing it in cold rooms, until the balance in market prices returns. In order to make the best use of this measure, it was agreed that the Minister, in consultation with the Deputy Minister of Tourism, would contact the hoteliers and/or other catering services to explore the possibility of their contribution to this effort.
In another development, the Minister informed the attendees of the meeting for the settlement that took place so that the National Guard would absorb significant quantities of goat and sheep meat. On the same issue, that is, the support of sheep and goats, it was agreed that the Minister would contact the Ambassadors of neighboring countries, who may be interested in procuring Cypriot animals.
In addition to the above, Mr. Kadis discussed with the representatives of the agricultural organizations the rest of the measures that will be included in the stimulus package of the agricultural sector to be submitted to the Council of Ministers. The package will include the support of areas of the agricultural sector that have already been hit hard. It was agreed that the Ministry, in cooperation and continuous consultation with the Agricultural Organizations, will be monitoring the situation and the problems that arise in all branches of the agricultural sector, in order to plan new supportive actions where and when needed. /ibna