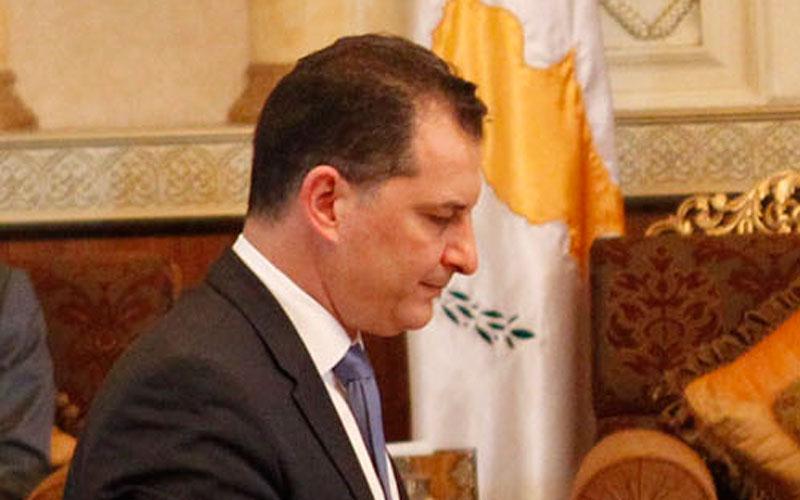 By Kyriacos Kyriacou – Nicosia
Energy Minister Yiorgos Lakkotrypis flew to Cairo on Monday for talks with Egyptian counterparts in what he said is the first of series of visits to different countries to discuss the island's hydrocarbons prospects.
Lakkotrypis, accompanied by a team of technocrats, will on Tuesday be meeting separately with Egypt's oil minister Sherif Ismail, and with industry and trade minister Mounir Fakhry Abdel Nour.
Lakkotrypis returns late on Tuesday, but the team of Cypriot officials will remain in Egypt until Wednesday. Also accompanying the minister is deputy permanent secretary of the foreign ministry Ambassador Tasos Tzionis.
Lakkotrypis and Ismail are scheduled to chair a session of the joint Cyprus-Egypt technical committee on hydrocarbons, the establishment of which was agreed during Ismail's official visit to the island in February.
The agenda includes a review of the two countries' ongoing hydrocarbons prospecting in their respective Exclusive Economic Zones and their future plans. The Cypriot delegation will be giving the Egyptians a full briefing concerning the development of Cyprus' thus far proven natural gas reserves.
According to an official announcement, Lakkotrypis' visit to Egypt is geared at prepping the upcoming face-to-face between the two countries' heads of state.
Nicos Anastasiades and Egyptian leader Abdel Fattah Al Sisi are set to meet in September in New York on the sidelines of the UN General Assembly.
Meetings with high officials
Lakkotrypis' visit to Egypt is also part of a broader itinerary in which he will hold talks with high-ranking government officials in Oman, Jordan and Romania in September and October.
Sigmalive quoted Lakkotrypis, prior to departing, as saying that on his trips he would be discussing the possibility of selling Cypriot natural gas – when it is commercially available – to these countries.
Interest in Cypriot gas is on the rise following the Ukraine crisis and the turmoil in the Middle East, he said. Indicative of this interest is the fact that Oman's energy minister attended an energy conference in Malta in July specifically to meet with him, Lakkotrypis said.
"We are particularly interested in countries facing energy problems due to the Ukraine crisis. Cyprus can become an alternative supply source and a force for stability in the region, as we are an up-and-coming natural gas power," the minister told Sigmalive.
Cyprus faces stiff competition when it comes to the Egyptian market. The island's proven gas reserves amount to under 3.6 trillion cubic feet (tcf), whereas Israel's biggest offshore field alone is estimated to hold some 22 tcf.
Cyprus is awaiting further drills at other prospective sites starting in September, potentially increasing its reserves. But the results of those drills will not be out before the end of the year.
In the meantime the partners in Israel's Leviathan natural gas field have already signed a non-binding letter of intent for a $30bn deal to supply gas to Britain's BG in Egypt via a new undersea pipeline.
The deal will see Israeli gas pumped directly from the Leviathan field off Haifa, northern Israel, to BG's liquefied natural gas plant in Idku, Egypt, which has been affected recently by acute gas shortages on the Egyptian market.