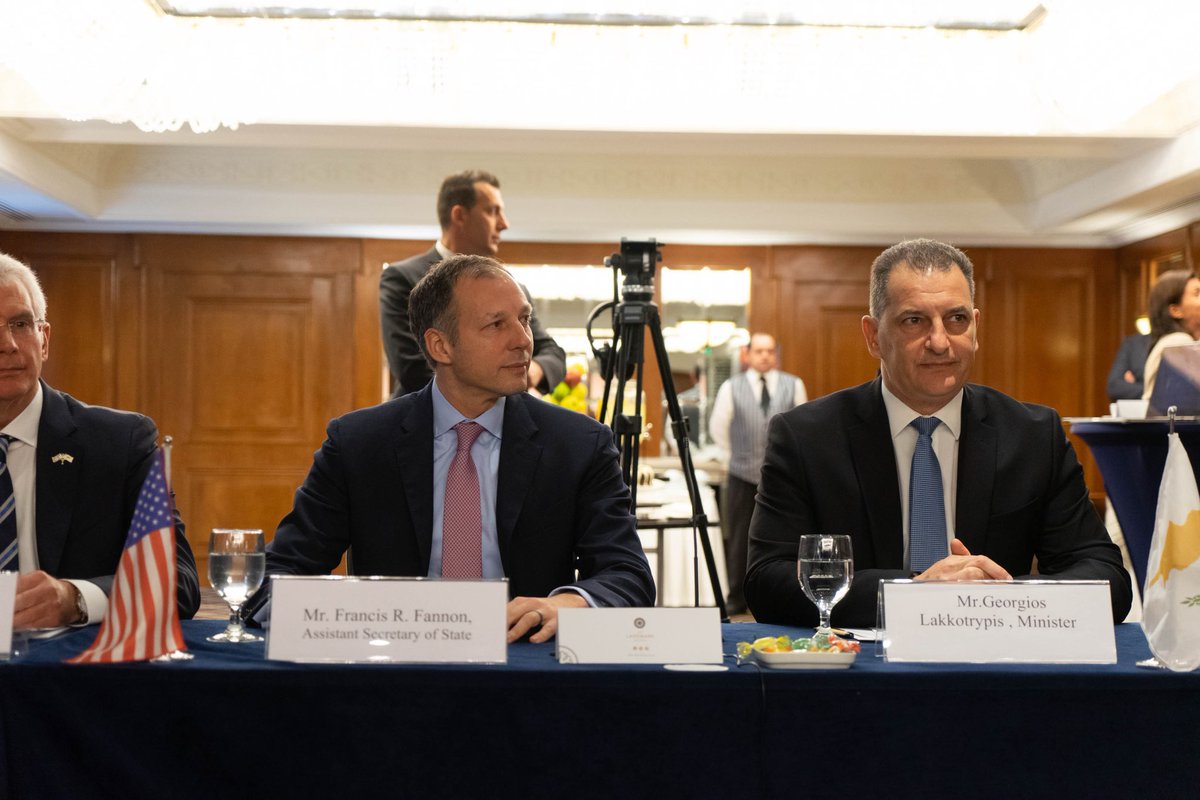 The Minister of Energy, Commerce and Industry George Lakotroupis alongside the US Deputy Secretary of State for Energy Resources Francis R. Fannon welcomed the launch of the works of the first 3+1 Technical Committee (Cyprus, Greece Israel and the US) today, Wednesday February 5 2020 in Nicosia, to address the issue of "Emergency Preparedness and Response to Emergencies Related to Offshore Oil and Gas Activities".
Speaking to the press, George Lakotroupis explained that the establishment of the Technical Committee had been agreed at the 3+1 Ministerial Meeting in Athens last August. "As I emphasized in my greeting statements, the cooperation of the three countries, plus the United States, is very important. Mind that it began in March 2019, at the 3+1 meeting at Jerusalem at the level of leaders between Cyprus, Greece and Israel, in the presence of the US Secretary of State; and it is precisely the model of cooperation everyone in the region must adopt, in order to be able to promote the common interests of our people".
The Minister of Energy also noted that in addition to this first Technical Committee, there were three more to be convened next, revolving around the protection of energy infrastructure, cyber-security in energy infrastructure and RES and energy storage.
Concluding his remarks, the Energy Minister expressed hope for even closer cooperation with the US to realize the common vision shared by the countries in the region, while, to a question regarding his remarks during his opening statements about Turkey's illegal activity within the Cypriot EEZ, he spoke of the support Nicosia receives from its partners, especially the US and the EU, "in order to address these challenging actions, which have escalated since last May".
For his part, the US Under-Secretary of State said that the US position regarding the Cyprus issue remained firm, stressing that "we support the Republic of Cyprus in developing its EEZ resources, as it is possible to direct the proceeds that come out towards the benefit of both communities, in the context of a comprehensive settlement of the Cyprus issue. The Secretary of State (US) was clear: we appeal to all parties not to take provocative actions that could exacerbate instability in the region".
Fannon also noted that energy really constituted the catalyst for cooperation, with the US remaining committed to the highest level.
At the same time, he referred to the new energy trade relations that were being formed today which they were unthinkable only a few years ago, stressing that "Cyprus has an extremely important role to play in this new energy corridor developing in the wider region.
Of course, we are very pleased and proud that US companies are active in all aspects of the region, enabling countries to develop their own energy paths through this model of cooperation. Energy is important, it provides the means for economic growth; but it is through cooperation between states that we see these resources being developed.
The 3+1 scheme comprises a rather important vehicle for facilitating cooperation between states at this level, and today's first Technical Committee meeting allows the US to contribute to the debate and share many years of experience in resource development, which ensures protection of the environment". /ibna