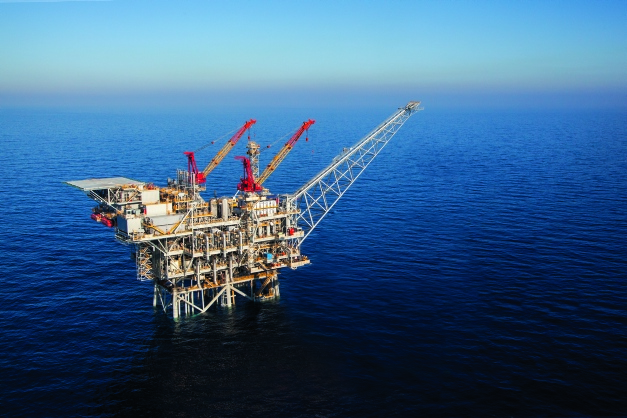 By Thanasis Gavos – London
Despite the economic trouble facing Cyprus and the anticipated bumps on the road to reform and recovery, there is one field of activity where things seem to be accelerating if anything.
The Cyprus's Hydrocarbon State Company's president Charalambos Ellinas announced that the agreement with the American company Noble on the construction of the Liquefied Natural Gas (LNG) plant will be signed in the last week of June. According to the existing timetable, the construction work will start in 2016, with the gas for domestic use delivered in 2019 and for exportation delivered in 2020.
The decision of the Cypriot government to opt for the LNG facility had raised eyebrows, since especially during the frenetic days of the bailout plan finalisation (coincidentally or not) some analysts were saying that the country might not discover enough gas to put the plant into good use. Although the results of the confirmatory drilling by Noble are expected at the end of summer or soon after, there now seems to be a wide consensus that those cautious estimates were wrong. At least the Cypriot government thinks so, reiterating that the country's reserves alone would be enough to make the LNG plant viable.
But for many the decision made by another government, that of Israel, will determine the degree of success of the project and the range of Cyprus's energy might in the region.
The key question, points out to the IBNA an experienced international oil and gas industry analyst from the UK, is what the decision of Tel Aviv will be on how much of its gas will be exported. Some Israeli officials had even supported the option of keeping all the gas found in the country's respective gas fields for internal use – cover current needs and keep the rest for future generations. But senior government officials seem to be edging towards benefiting from revenue stemming from gas exports.
Indeed, Prime Minister Netanyahu is reported to be ready to propose the exportation of 40% of Israeli gas, a development most welcomed in Cyprus. "The other obvious question is which route they will go for in exporting their energy," notes the same analyst. There is an air of optimism in Cyprus that even if their LNG plant is not the exclusive facility used by the Israelis in the process of exporting their gas, it will definitely be one of them. "The coast in Israel is not big enough or secure enough for a LNG plant to be built there," according to the oil industry expert, who also adds that big companies involved in the gas project of Israel would not have appreciated any decision against exports that would minimise their profit prospects, "and that has to count for something."
Another international energy analyst shares the optimism about the Cyprus-Israel cooperation outlook, although he is a bit more cautious. "Let's not forget that if Israel decides to go ahead with the Cypriot solution it will be surrendering the fate of its gas to the hands of a foreign country. Will they trust Cyprus, would they trust any country other than theirs that much?"