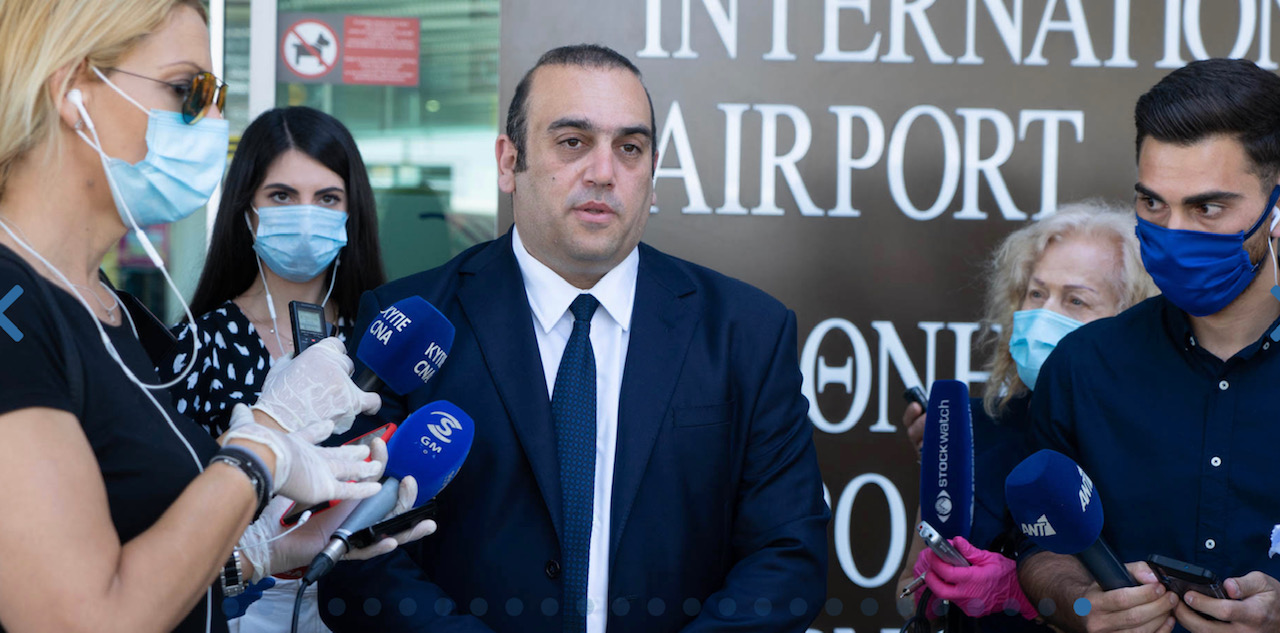 In the context of the resumption of Cyprus' connectivity with other countries, today, the Minister of Transport, Communications and Works Yiannis Karousos welcomed the first passengers who arrived at Larnaca Airport from Tel Aviv. In addition, Yiannis Karousos supervised the measures taken at the airport and observed himself that the procedures were followed and the relevant Protocols that have been prepared for this purpose were implemented.
Speaking from the Larnaca Airport, the Minister said: "It is with great pleasure that I received today the first passengers of the flight from Tel Aviv, and I am fully satisfied with the compliance with all the relevant procedures and Protocols that we have prepared. The various services of the Ministry of Transport, the other co-responsible Ministries and Hermes Airports have worked hard to prepare for the opening of airports and the restoration of our country's connectivity with the outside world.
We are at the beginning of the gradual lifting of measures. Countries classified in categories A and B are updated and the possibility of new countries joining these two categories is further examined. We are gradually moving towards the mandatory use of the electronic platform. Everything went perfectly today. We are optimistic and I think that the various Services have done a marvelous job. We are ready. I wish a great comeback to everyone".
Asked about the number of passengers expected to arrive in Cyprus, Mr. Karousos said about 30,000 passengers were expected to arrive in the first month, around 200,000 in the second month, around 400,000 in the third month month and around 600.000 passengers in the fourth month, of which about 30% will be tourists. "Of course, everything depends on the ranking of countries in Categories A and B. As countries are added to Category A, tourism and passenger traffic will certainly increase. Apart from Greece, there is interest from airlines operating in other countries to add flights to both existing routes and new destinations", he said.
Asked about the implementation of the Protocol concerning the 19 countries that fall into Categories A and B, Mr. Karousos said that Phase A, which will last until June 19, also functions as a pilot to identify any problems that may arise. In particular, "countries belonging to Categories A and B will be required to provide a certificate confirming that the passenger has been tested negative to COVID-19. However, for Cypriot citizens and those legally residing in the Republic of Cyprus, this examination can be carried out upon their arrival in Cyprus. The cost of the examination will be covered by the passengers", said Mr. Karousos.
In addition, the Minister noted that "some countries that do not fall into category A and B will be allowed to fly only after a relevant permit has been granted by the Minister of Transport, based on certain criteria and given that the passengers will be Cypriot nationals permanently residing in Republic of Cyprus, as well as persons to whom special permission will be granted. From 20 June, certification will not be required for countries falling into category A except for countries falling under category B. However, all passengers will need to fill out an electronic questionnaire to be able to travel. After all necessary documents are submitted, the passenger will receive an electronic approval which he must provide before departing. No one will be allowed to board a plane unless they have completed this online application, which will be used for tracking purposes and for planning purposes to conduct a coronavirus examination".
Finally, the Minister stressed that "Cyprus is ready to welcome tourists. One of the reasons we are ready is the good preparation we have made and the strict implementation of the Protocols, in order to make sure that this effort we are making is effective and productive for the restart of our economy, without affecting public health". /ibna