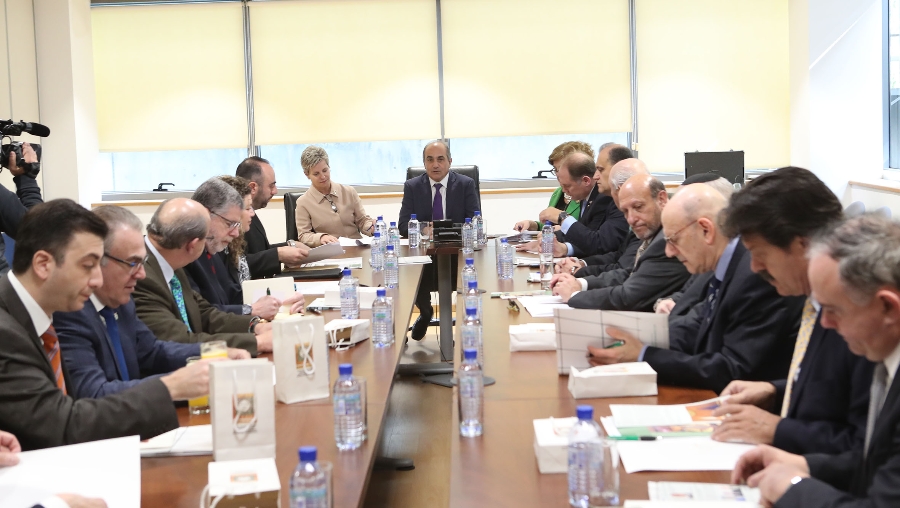 The president of the House of Representatives, Dimitris Syllouris, received today a large delegation of the American Hellenic Institute (AHI), the American Hellenic Educational Progressive Association (AHEPA), the American-Jew organization B'nai B'rith and the Council of Presidents of Major American Jewish Organizations that are visiting Cyprus, Greece and Israel. The delegation is led by the heads of the Organizations: Carl Hollister (AHEPA), Nick Larigakis (AHI), Gary Saltzman (B'nai B'rith) and Stephen Greenberg (American Hebrew Council).
Welcoming the delegation, the President of the House expressed his appreciation for the support of these organizations to Cyprus, in the efforts to resolve the Cyprus problem, while at the same time defending Cyprus and other neighbouring countries against Turkish aggression, as well as denouncing the violations of human rights in Turkey itself. Syllouris also referred to the historical ties between Cyprus and Israel.
Hollister noted the common issues that concern Cyprus, Greece and Israel, and expressed his continued interest in a solution to the Cyprus problem, which will contribute to peace, progress and security in the wider region.
Larigakis, referring to Turkey's continued occupation of Cyprus, noted the need for pressure on Turkey by the international community, a role that is already being played and needs to be enhanced further by the Diaspora of the three countries, particularly in the United States.
On his part, Greenberg referred to the importance of developing bilateral US-Israeli relations and the potential benefits for the partner countries.
Finally, Saltzman stressed the importance of strengthening relations between Cyprus, Greece and Israel, for the benefit of peace, security and development in the region.
The House Speaker informed the parliamentary dimension of the Cyprus-Greece-Israel Trilateral Co-operation, highlighting the role of the Parliaments as a mechanism of control and pressure to accelerate the implementation of relevant policies, while stressing the impetus given to cooperation among the peoples of the three countries.
Syllouris also referred to the enlargement of this cooperation with other countries in the region and stressed that Cyprus can contribute with mild policies, particularly in the fields of culture, education, entrepreneurship and research./IBNA
Photo: pio.gov.cy