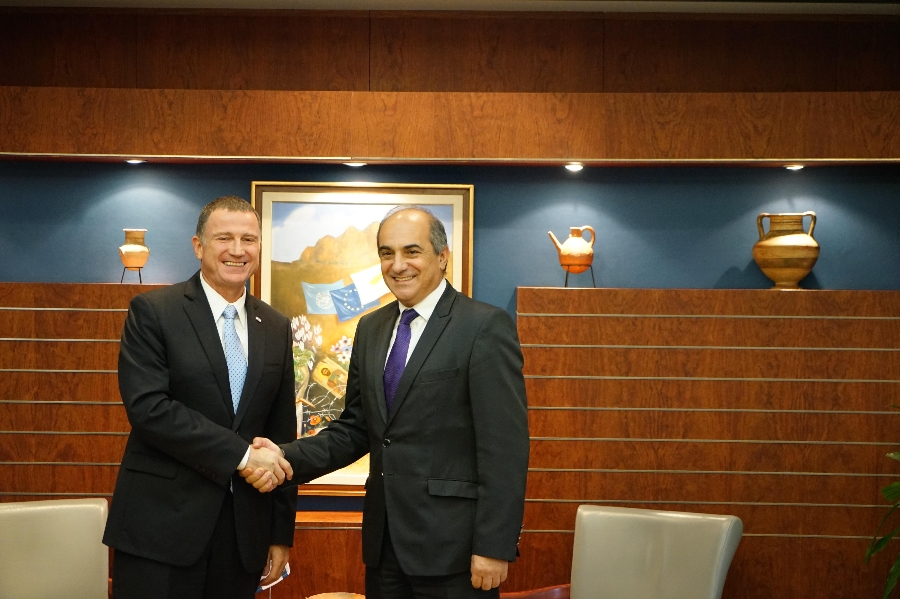 The President of the House of Representatives, Dimitris Syllouris, met today with the President of the Parliament of Israel (Knesset), Yuli-Yoel Edelstein, who is on an official visit to Cyprus, upon invitation of the House President.
In statements to the Press after the meeting, Syllouris welcomed the President of the Knesset to his second official visit, revealing that Cyprus is the only country he has officially visited for a second time and of course many times unofficially on a private basis.
"We want with our cooperation to turn it into a habit of our citizens, our entrepreneurs, our young people and our peoples on a daily basis. That is, the historic and the current good political relationship with Israel to be transformed into a relationship of our peoples with practical results in order to prove that we, the two peoples here in the region support the security, the peacefulness of the region and the progress. I do not want to say more, because we have agreed with the President of the Knesset that we will talk less and do more. That is why I will give him the floor", Syllouris said.
For his part, the President of the Israeli Parliament warmly thanked the President of the House for the very nice welcome and noted that indeed Cyprus is the only country he is officially visiting for the second time. This, he explained, is not accidental, but it shows the type and level of good relations between the two neighboring countries.
"We are both democratic countries", Edelstein said. However, he pointed out, even in democracies there are sometimes difficult circumstances. For example, he said, "in Knesset for 22 years we remember something tragic, the murder of a prime minister. But from this incident", adding that, "our democracy came out stronger, more stable and we continue. And the relations between our two democratic countries and the particularly warm relations between the two Parliaments show exactly our commitment to democracy".
In conclusion, delstein stressed that relations between Israel and Cyprus are always in the forefront, they are always warm and do not depend on anyone else. They are relationships that have to do with these two countries and move forward./IBNA