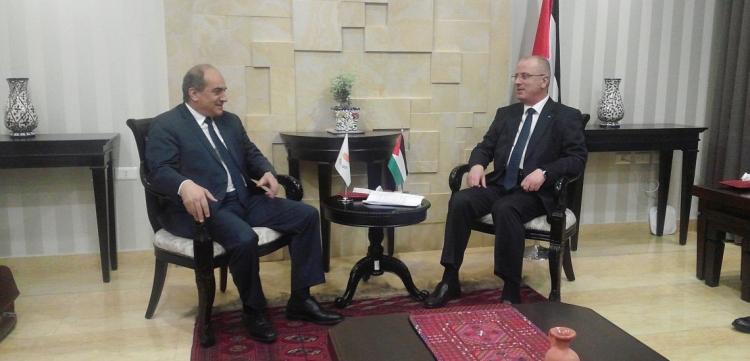 The President of the House of Representative, Demetris Syllouris, concluded today his contacts in Palestine, where he had been paying an official visit.
Syllouris was received by the Prime Minister of the State of Palestine, Rami Hamdallah, whom he briefed on the latest developments in the Cyprus problem. The Prime Minister reaffirmed his government's steadfast support of Cyprus' cause on the basis of the principles and relevant Resolutions of the United Nations.
Moreover, Hamdallah briefed Syllouris regarding the latest developments in the Palestinian issue. The President of the House of Representatives reaffirmed Cyprus' principled stance on the matter, always on the basis of the relevant UN decisions. He also pointed out that the reinforcement of Cyprus' relations with other countries does not affect its traditional friendship with Palestine.
After his meeting with Prime Minister Hamdallah, the House President visited the monument of Palestinian leader Yasser Arafat, where he laid a wreath.
He also had a meeting with the Minister of Foreign Affairs, Riad Malki, during which they reaffirmed their countries' support vis-à-vis the Cyprus and Palestinian issues, respectively, on the basis of principles and according to international law. The meeting also focused on regional matters of mutual and wider interest.
The President of the House also held separate meetings with the member of the Executive Committee of the Palestine Liberation Organization, Hanan Ashrawi and the General Secretary of the Palestinian National Initiative, Mustafa Barghouty. Syllouris and Ashrawi held an extensive exchange of views on the latest developments in Palestine and the Middle East in general. With Barghouty they reviewed the historical evolution of the Palestinian problem and examined the prospects for its solution. During both meetings Syllouris briefed his interlocutors on the current phase of the Cyprus problem.
Lastly, the House President attended a dinner hosted in his honour by the Chairman of the Palestine Investment Bank, Abed Dayeh. The dinner was attended by state officials, politicians, economic stakeholders, diplomats and other distinguished personalities of Palestine, as well as a representative of the Patriarch of Jerusalem.
During the visit, Syllouris was accompanied by the Representative of the Republic to the State of Palestine, Savvas Vladimirou./IBNA