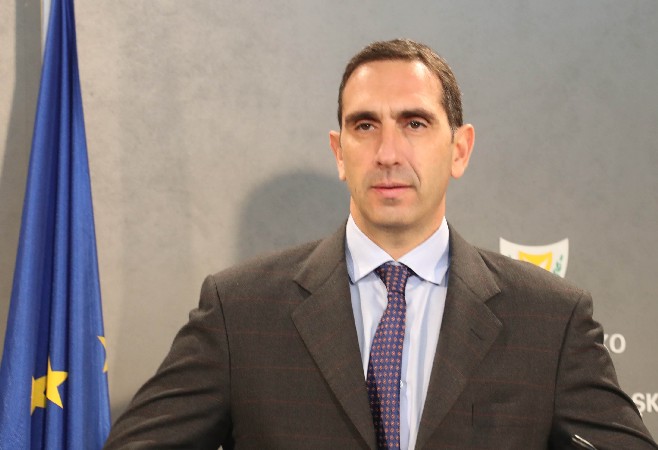 The Minister of Health of the Republic of Cyprus, Konstantinos Ioannou, answered questions from journalists today, in the context of a press conference he gave with the Ministers of Labor, Welfare and Social Security and Finance.
Based on the recommendations of the epidemiological team, answering a question regarding a state subsidy for masks, in order to meet the needs of employees, Ioannou said that "for those who are required to use a mask, the Ministry of Health was quick to place an order for the purchase of 9 million masks, which will be given for free to in the public and wider public sector in the departments that serve the public. As far as the private sector is concerned, in consultation with the competent bodies and Associations (OEB, KEVE, etc.), part of the needs will be covered free of charge by the Ministry of Health, so we will partially cover their needs".
Asked if the ministry is concerned that the easing of measures could cause problems, the health minister reiterated that this is a possibility that certainly worries the relevant services and stressed that there should be no complacency; the social measures of distancing and personal hygiene must be observed. "I am convinced that if we follow the basic rules, ie two meters distance, avoidance of gatherings, etc., there will be – and is expected – an increase in the number of cases, but it will be manageable, based on the epidemiological indicators that have been determined. These are not only indicators for relaxation, but also indicators for evaluation", he pointed out.
He added that it is worrying that, according to the experience of other countries, where there has already been relaxation of restrictions, there has been an increase in cases, but also in the contagion index, which as you all know is now at 1: 1. "In our case there is also a concern about this; we will constantly emphasize the need for faithful observance of protective measures and personal hygiene", Ioannou pointed out.
Asked about the interventions in the private hospitals, the Minister of Health said that this will be regulated by a Decree that will be issued within the day. We want, he said, to have access to hospitals, so that if a new outbreak of the virus is recorded and we need beds, there will be availability.
Regarding travel and visits to relatives or friends, especially if they are in another city, Ioannou clarified that in the first phase, travel and visits are prohibited. To move to another city, citizens must send a written message by May 21 regarding the applicable categories. In the second phase, he said, all restrictions on travel will be lifted./ibna