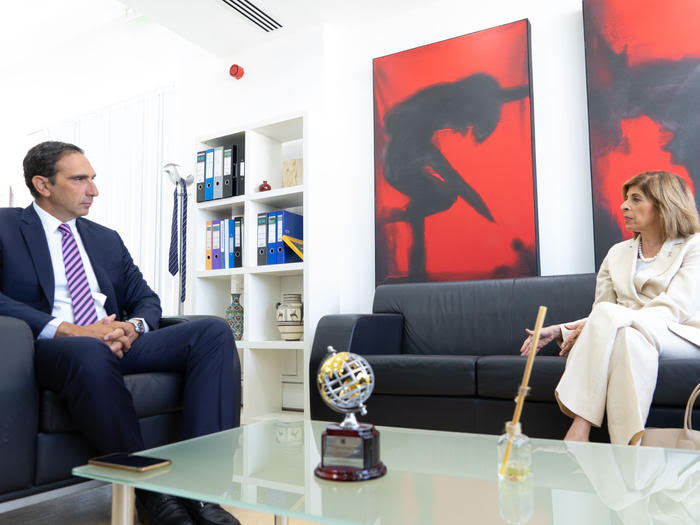 The Minister of Health Konstantinos Ioannou had a meeting with the European Commissioner for Health and Food Safety Stella Kyriakidou today, during which various aspects of the pandemic and the actions taken at national and European level for its management were discussed at length.
Specifically, Konstantinos Ioannou had the opportunity to inform the European Commissioner about all the actions taken so far in Cyprus, but also about the current epidemiological picture recorded in Cyprus. Stella Kyriakidou expressed her satisfaction for the measures taken by Cyprus in the previous period, but also for the plans in view of autumn and a possible new outbreak of cases.
According to the European Commissioner, the fact that a second wave of the virus is already being recorded in several European countries is a matter of concern. In several EU Member States, he noted, there is an increasing number of cases and this is mainly due to the complacency and relaxation on the part of citizens regarding the observance of the necessary personal hygiene measures.
The European Commissioner referred specifically to Cyprus and expressed concern about the detection of cases in the community, for some of which no epidemiological link has been found at present. This, she explained, shows that a portion of the population does not comply with the necessary protection measures and health protocols, noting that only if there is constant vigilance from all, will the resurgence and worsening of the situation be prevented.
Finally, the Minister for Health and the European Commissioner discussed at length the issue of vaccines and the ongoing negotiation by the European Commission for the supply of vaccines to all Member States. Regarding the drug Remdesivir, Stella Kyriakidou informed the Minister of Health that the submission of requests from all Member States, including Cyprus, has been completed and the procedure for joint procurement of the quantities submitted will proceed immediately through joint procurement by the Member States, in order to meet their needs./ibna