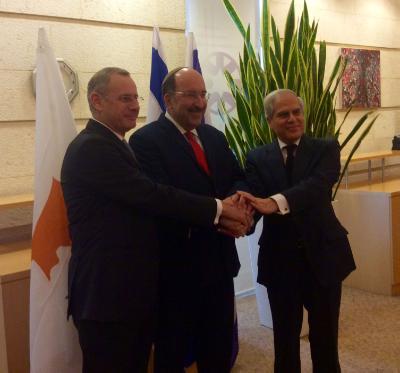 Nicosia, December 16, 2015/Independent Balkan News Agency
The second trilateral meeting of Cyprus, Greece and Israel, at the level of Foreign Ministry Permanent Secretaries, took place on Wednesday, in the framework of the preparation of the Trilateral Summit at the level of Heads of State/Government that will take place in Nicosia on January 28, 2016.
According to an official press release issued here, the meeting was attended by the Ambassadors/Permanent Secretaries Alexandros N. Zenon, Demetrios Paraskevopoulos and Dore Gold.
They discussed issues of trilateral interest, focusing on promoting fields of cooperation of immediate priority, such as energy, tourism, the environment, research and technology, water management and addressing immigration and terrorism.
They also discussed regional issues of security in the Eastern Mediterranean and the Middle East. Zenon briefed his interlocutors on the latest developments in the negotiations for a Cyprus settlement.
A joint communique issued after the meeting said that it was agreed that the three countries will work to institutionalize and deepen the trilateral cooperation.
Cyprus has been divided since 1974, when Turkish troops invaded and occupied 37% of its territory. Cyprus President Nicos Anastasiades and Turkish Cypriot leader Mustafa Akinci have been engaged in UN-led talks since May this year with a view to reunite the island under a federal roof.
Source: CNA