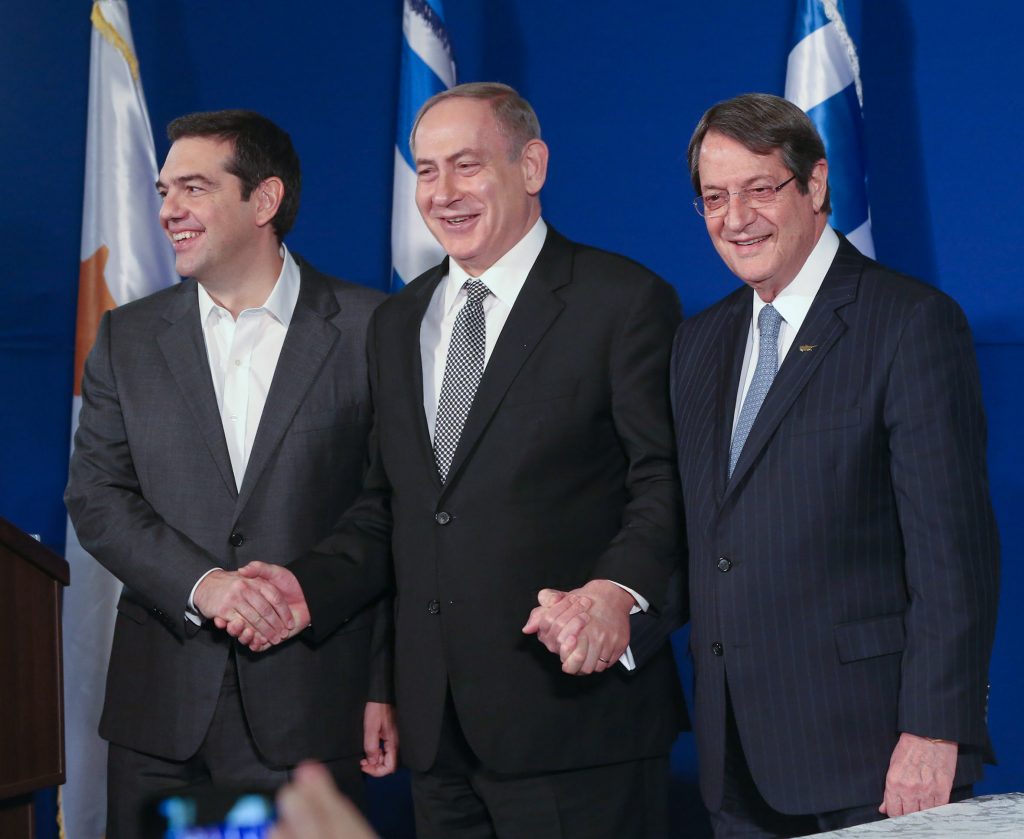 Cooperation between Greece, Cyprus and Israel, is promising to go smoothly since during the joint declarations of Greek Prime Minister Alexis Tsipras, Cypriot President Nicos Anastasiades and Israeli Prime Minister Benjamin Netanyahu, the Cypriot President spilled a glass of water on the declarations table. This mishap gained an array of positive comments and all immediately agreed that it was a positive omen and a sign of good luck.
During the joint declarations of the three leaders at the King David hotel in Jerusalem on Thursday afternoon, good cooperation between the three countries was reaffirmed as well as the consolidation of friendship and trust  between Greece, Cyprus and Israel. A collaboration that will continue with a third trilateral meeting Summit, on Greek soil this time, in a city with great symbolism: Thessaloniki.
The three leaders decided and set up a transnational cooperation Civil Protection centre, against the threat of natural disasters, in which it is considered that other countries will participate. Indeed, the Greek prime minister was not able to hide how proud he was for the Greek pilots of the firefighting aircraft, whose actions helped save the city of Haifa from the recent devastating fires.
During the talks special attention was focused on the energy sector, with emphasis on the EuroAsia Interconnector and the EastMEd gas pipe line, which as latest developments show the transfer of Israeli gas to Europe via this pipeline is gaining ground.
All three leaders described the energy sector a common interest, a pillar of cooperation and important in the stability of the region. On his part, Alexis Tsipras described the goal of his government, to make Greece a transit energy centre of the Israeli and Cypriot natural gas.
The tripartite cooperation will also involve many other areas, such as startups, research and technology, etc.
Both Anastasiades and Tsipras mentioned the problems faced by the wider region, setting two necessary conditions: Security for the citizens of Israel and creation of a Palestinian state. Alexis Tsipras spoke for reliable and direct talks concerning the Middle East problem and for a "viable" Palestinian state.
The Israeli Prime Minister was briefed on developments in Cyprus, with emphasis on territorial and security issues. The President of Cyprus referred to the necessary components for a solution to the Cyprus problem and the Greek Prime Minister reiterated Athens' support.
Benjamin Netanyahu spoke of "real, true friendship between our three peoples" and ended his speech by saying, "welcome my friends." For his part, Nikos Anastasiades noted that cooperation is above any political declarations and is of great strategic importance. While Alexis Tsipras finally said that the tripartite is a strategic choice adding that cooperation will be governed by honesty, including on "those matters that we disagree on".
On the sidelines of the bilateral and trilateral talks parallel meetings between participating Ministers, on energy and environmental issues, took place.
The tripartite meeting ended with the signing of the Memorandum of cooperation in the research and technology sector and a dinner by the Israeli Prime Minister./ΙΒΝΑ