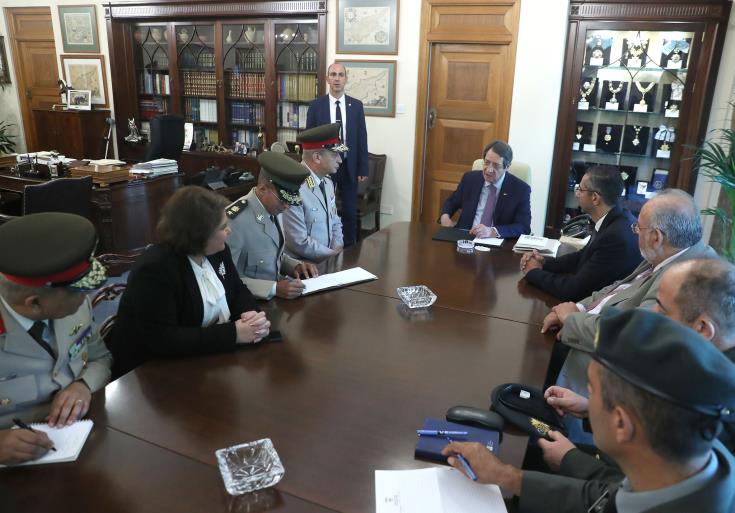 There is continuous upgrade with common staff drills
By Michalis Michael
The Cyprus-Greece-Egypt Tripartite Summit will be held on October 8, hosted by Egypt, Cyprus Defense Minister Savvas Angelides announced today.
Angelides attended the morning meeting of the President of the Republic of Cyprus, Nicos Anastasiades, with the Egyptian Minister of Defense, Mohamed Ahmed Zaki, in the framework of Zaki's official visit to Cyprus.
Nicosia-Cairo relations on defense and security issues are being upgraded, he said, while also referring to the two countries' co-operation in exchanging information on terrorism and energy security issues. The meeting "reaffirmed the existing co-operation and the upgrade of Cyprus-Egypt relations in the issue of security and defence as well", Angelides said after the meeting.
He said the co-operation is aimed at ensuring stability and security in the Eastern Mediterranean, while the issue of energy security is also related. "We are constantly upgrading the development of these relations", the defense minister said. He also assured that "there is indeed a close cooperation and exchange of information and issues of common interest for both countries".
Angelides said that the exchange of information concerns terrorism issues and, in particular, issues related to energy security. The Minister also said that during the meeting with President Anastasiades and his Egyptian counterpart, there was also mention of the Tripartite, which will take place on October 8 in Egypt.
"Both in our bilateral relations with Egypt and in the trilateral military cooperation with Egypt and Greece there is a continuous upgrade with joint staff drills", which contributes to the training and experience of the armed forces personnel, he concluded./ibna