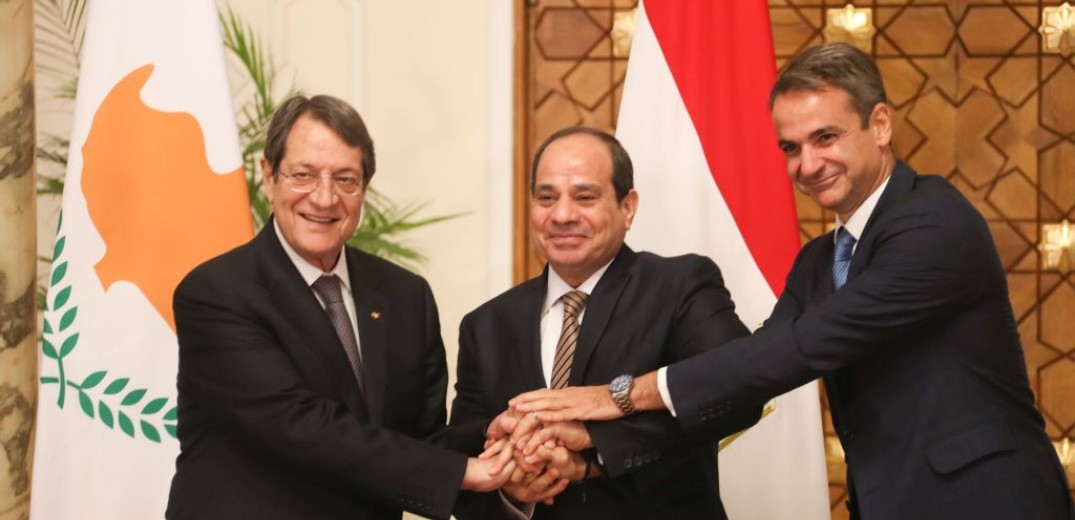 Coordination, deepening co-operation and the formulation of shared positions between Cyprus, Greece and Egypt emit messages in every direction regarding the three countries' determination to continue working towards peace and stability in the region, Deputy Government Spokesman Panayiotis Sentonas stated today, commenting on the Tripartite Summit that will take place on Wednesday, October 21 in Nicosia.
According to the Deputy Spokesman, the Summit is of particular importance as it takes place at a time when Turkey's provocations and actions are affecting the participating countries, as well as the wider regional security.
Consequently, coordination, deepening cooperation and the formation of common stances on a number of issues are highlighted as particularly important and convey messages in every direction regarding the determination of the three countries to continue working to achieve peace and stability in the region.
The Summit, according to Panayiotis Sentonas, will focus on the ongoing Turkish aggression, which is manifested not only through drilling and seismic surveys within the Cypriot EEZ, but also with the October 5 decision to open the Famagusta seafront, in breach of the relevant United Nations Security Council resolutions.
The Cyprus issue will also be at the center of the Summit. The President of the Republic of Cyprus will refer to the latest developments, while parallelly underlining his readiness and determination to respond immediately to the expressed intention of the UN Secretary General to launch a new initiative to resolve the Cyprus issue.
Furthermore, the Summit will focus on the results and progress of the tripartite scheme, both in existing and in new areas of cooperation, on energy cooperation, migration, the fight against terrorism, regional issues such as the situation in Syria, Libya, as well as the Middle East Peace Process and the situation around the progression of the coronavirus pandemic.
With the completion of the work of the Summit, a Joint Declaration will be adopted through which the common positions of Cyprus, Greece and Egypt will be formulated in a series of issues, challenges and policies". /ibna