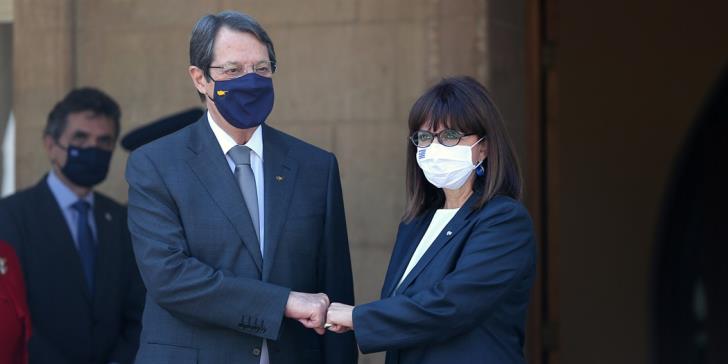 The President of the Hellenic Republic Aikaterini Sakellaropoulou is on an official in Cyprus, making her first trip abroad, after assuming her duties in the highest office of Greece.
Ekaterini Sakellaropoulou was received by the President of the Republic of Cyprus Nicos Anastasiades at the Presidential Palace.
Greece and Cyprus have a united diplomatic front, always guided by the common and national interest, stressed the President of the Hellenic Republic, Ekaterini Sakellaropoulou, in her short conversation with the President of the Republic.
The President of the Republic of Cyprus warmly welcomed his Greek counterpart and expressed the gratitude of Cypriot Hellenism for its timeless and tireless stand, with sacrifices of the Greek people, support for the Republic of Cyprus, the Cypriot Hellenism and in the case of international law.
In his speech, President Anastasiades expressed particular joy that he received Ms. Sakellaropoulou at the Presidential Palace. He described her visit as a "tangible confirmation of the historical and inseparable ties" of Greece and the Republic of Cyprus and referred to the discussions that took place earlier.
According to the President, the common finding was the cessation of Turkish illegal actions, the need for de-escalation under the law of the sea, the positive role played by Greece and Cyprus through trilateral cooperation with all neighboring countries.
"Respect for international law is a powerful factor in ensuring stability," he said, referring to concerns about what Turkey is doing, both at sea and in trying to derail the settlement of the enclosed city of Famagusta, as well as the obstruction of the work of the Commission of Inquiry on Missing Persons.
The President expressed readiness for the UN Secretary-General's proposal for a new initiative based on what was discussed on November 25 in Berlin. He reiterated the need for a workable solution to the Cyprus problem on the basis of UN resolutions, as well as on the basis of EU law, "which will create a truly independent state" without guarantees and a foreign army. Concluding, he thanked the President for his support to the Republic of Cyprus.
The President of the Hellenic Republic expressed joy and emotion for the visit to Cyprus, which takes place at a particularly difficult time due to the Turkish delinquency.
As he said, the visit makes clear the inseparable relationship between Greece and Cyprus, noting that he discussed with the President about everything that Turkey is doing. "The departure of Oruc Reis is a positive step towards de-escalation", he said, under the precondition that Turkey would enter into dialogue.
Ms. Sakellaropoulou also referred to the provocations in Varosha, but also to the open issue of missing persons, as well as to the existing immigration issue and the need for European solidarity towards Greece and Cyprus./ibna