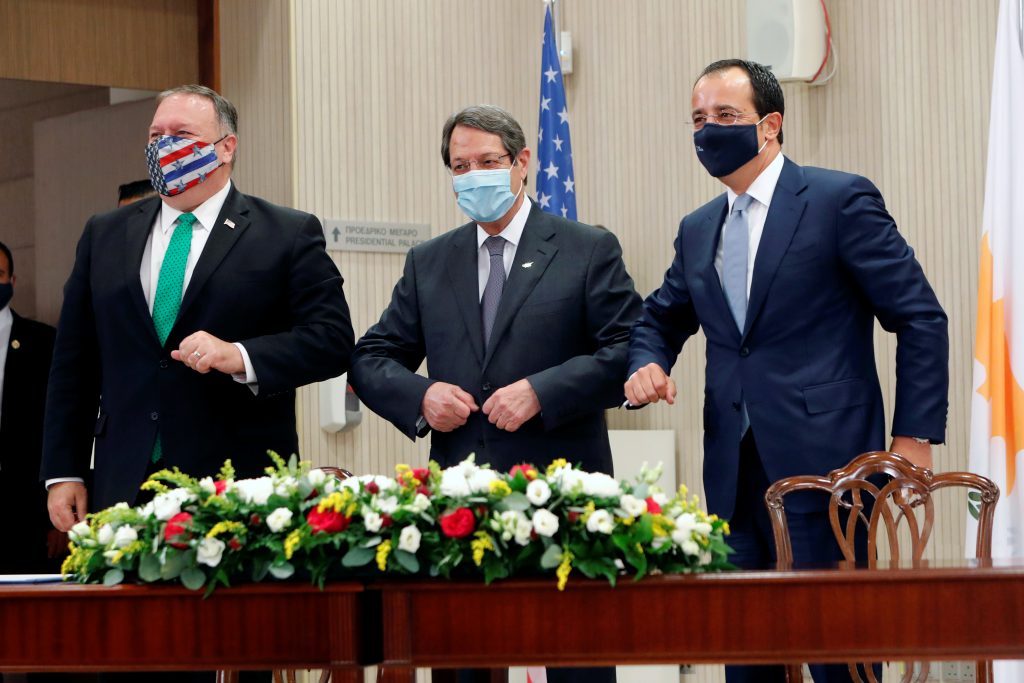 The Republic of Cyprus has been at the center of developments in the Eastern Mediterranean in recent days as it received Russian Foreign Minister Sergey Lavrov on Tuesday and US Secretary of State Mike Pompeo on Saturday.
For their own reasons, Russia and the US are focusing their interest in Cyprus. This could have double reading. On the one hand, the upgrading of the Republic of Cyprus in the eyes of the international community and its dominant role in the Eastern Mediterranean, and on the other hand, as the weak link that can be pressed more easily to de-escalate and resolve problems in the region with Turkey.
The Cypriot Government expressed its satisfaction with the results of the consultations it had on Saturday with the US Secretary of State, Mike Pompeo, during his short visit to Cyprus.
In statements to CNA, Foreign Minister Nikos Christodoulides expressed satisfaction with the results of Mike Pompeok's visit, noting that the American official during his talks with the President of the Republic Nikos Anastasiades, with himself present, expressed the commitment and interest of the United States in the wider Eastern Mediterranean region, as well as the need for security and stability.
Regarding the discussion on Turkey's illegal actions in the Eastern Mediterranean and its action in the wider region, the Foreign Minister said that emphasis was placed on the need for such issues to be resolved through dialogue or their referral to the International Court of Justice in The Hague, always keeping in mind the relevant 1982 UN Convention on the Law of the Sea.
Regarding the Cyprus issue, he stressed the need to resume talks from where they left off in Crans Montana, immediately after the "electoral" process in the occupied areas of Northern Cyprus, in an appropriate environment, with the aim of reaching a bi-zonal, bi-communal federation based on United Nations resolutions./ibna