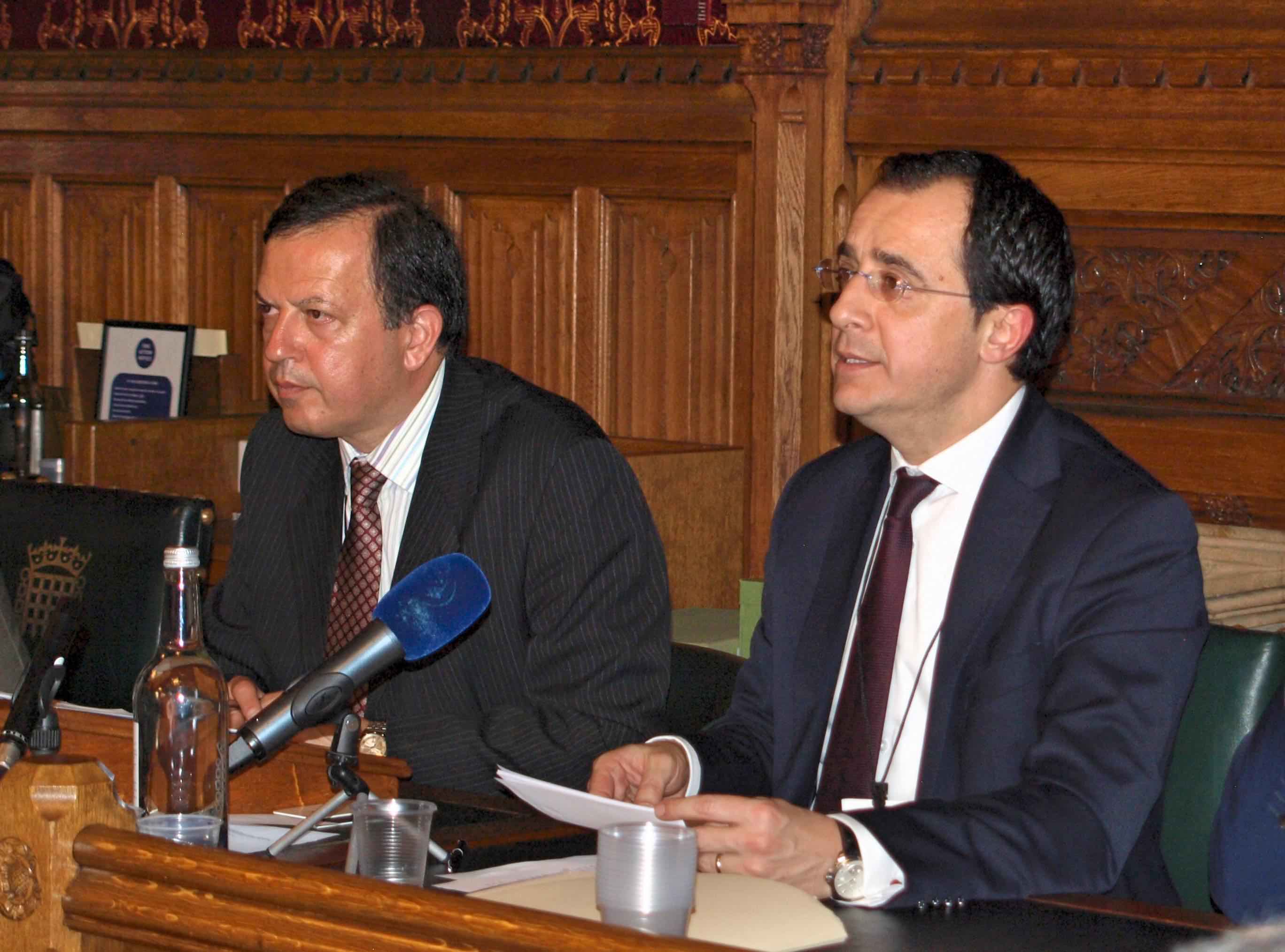 London, March 13, 2015/ Independent Balkan News Agency
By Thanasis Gavos
The Cyprus Government Spokesman Nikos Christodoulides arrived in London during the week for a series of meetings, determined to get through a defiant message to the EU partners as Nicosia has been demonstrating its diplomatic weaponry with a Presidential visit to Russia.
At an event hosted by the National Federation of Cypriots in the UK in the British Parliament, Mr Christodoulides presented his update on developments in Cyprus, covering a range of issues, from the wider aspects of the Cyprus problem, to the narrower themes of President Anastasiades's recent visit to Russia, Turkey's threats to the integrity of Cyprus's Exclusive Economic Zone (EEZ) and the island's continuing economic recovery since the financial crisis in March 2013.
He spoke of how Cyprus was at a "critical juncture", where Turkey "has escalated its illegal and highly provocative actions in our EEZ", destabilising an already sensitive region. As such, Mr Christodoulides said that President Anastasiades' visit to Russia last month was: "part of the long-standing practice of keeping all permanent members of the Security Council duly and equally informed of the latest developments. Russia cannot be an exception."
The Government Spokesman went on to state his administration's hopes for greater solidarity from its EU partners, not least in light of Cyprus's full support and commitment for actions in relation to the Ukraine, despite adverse economic impacts in doing so: "We expect the same solidarity from our EU partners on issues that are of vital importance to us, such as the violation of our sovereign rights in our exclusive economic zone. While we have received support from a number of member states, it is highly disappointing and regrettable that this is not the case for all EU member states.
"The EU and our partners should ask themselves what it says about the credibility of the EU, and whether it is acceptable that there was such a strong reaction by the EU vis-à-vis Russia in the context of the Ukraine crisis, while the EU has opted for a very cautious approach when it comes to Turkey's – a candidate country's – actions in Cyprus, an EU member state."
The hydrocarbon reserves discovered in Cyprus's EEZ would be used to "help create a region of unity, peace and stability, forging commonalities and strategic interests for the greater common good".
In concluding, Mr Christodoulides reported the better than expected speed and extent of economic recovery in Cyprus, saying that the "upgrading of the Cyprus economy by Credit Rating Agencies, the return of Cyprus to the international markets just a year after the signing of the MOU, and a favourable interest rate, send a strong message that there is trust in our economy."
Photo: Christodoulides (right, pictured with NFC President P. Droussiotis)