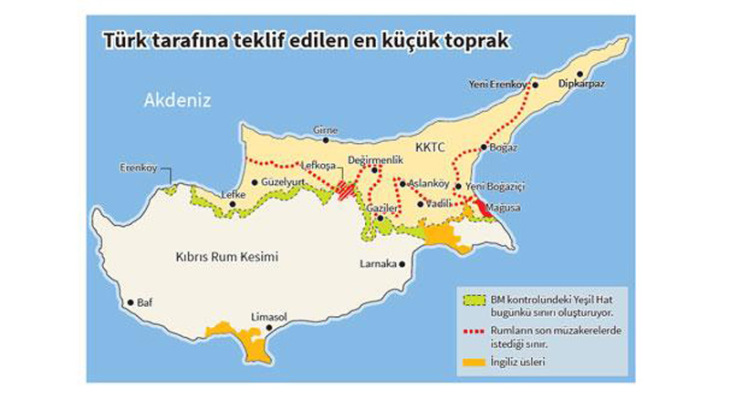 By Kyriacos Kyriacou – Nicosia
The Cypriot government denied on Monday a report that it had submitted a map in the reunification negotiations proposing that the Turkish side gets 25 per cent of territory in the event of a settlement.
The report was published by Turkish newspaper Milliyet, together with the map allegedly tabled by the Greek Cypriot side.
"It was an attempt to mislead from Turkey," stated Government spokesman Nicos Christodoulides.
He added that the President has submitted nothing to the negotiations beyond the criteria that a settlement of the territorial issue must be based on."
Leaking misleading information, especially when it found itself in a difficult position, was a practice employed by Turkey on a regular basis, he concluded.
Milliyet claimed that the map left Turkish Cypriots with "only 25 per cent" of the territory, instead of 29 per cent provided for in a UN blueprint rejected in 2004.
Turkey invaded Cyprus in 1974 and until today occupies around 37 per cent of the island's area.
The neighboring country does not recognize the state of Cyprus, an EU member since 2004, and recently has dispathed a research vessel to conduct seismic surveys in the island's Exclusive Economic Zone (EEZ).
The action led Greek Cypriot President Nicos Anastasiades to pull out from UN-backed negotiations with the Turkish Cypriot side aiming in reunifying the island.
UN adviser's visit
Meantime, United Nations special adviser for Cyprus Espen Barth Eide will on Thursday hold separate meetings with the leaders of the two communities of the island, the Cyprus News Agency (CNA) said.
CNA said Eide will be arriving in Cyprus from Athens, where on Wednesday afternoon he will be received by Greek Prime Minister Antonis Samaras. He will also meet Foreign Minister Evangelos Venizelos.
On Thursday afternoon, Eide will hold in separate meetings with President Nicos Anastasiades and Turkish Cypriot leader Dervis Eroglu and on Friday he will meet the communities' negotiators.
A UN source told CNA that Eide "is looking for a formula to get out of the impasse" and that he will convey some messages from Athens and Ankara.