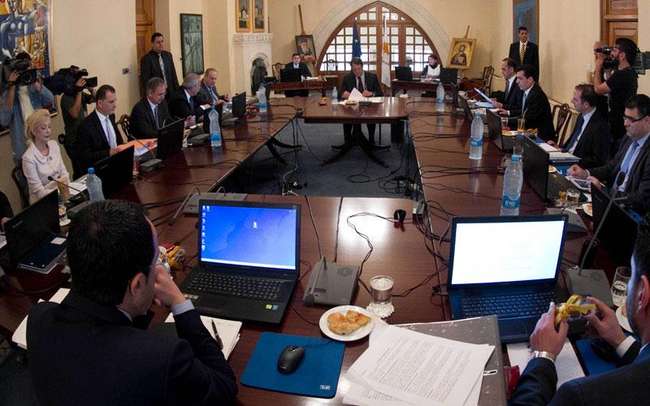 By Kyriacos Kyriacou-Nicosia
The Cabinet of Cyprus authorized today Finance Minister Harris Georgiades to engage in a dialogue with the public servants in order to prevent the 24-hour strike, which would paralyze the public sector.
Public emloyees called the warning strike for Friday after they heard from official lips that their retirement bonuses could be taxed.
After the Cabinet's meeting, Government spokesman Nicos Christodoulides said that the Cabinet decided that further discussion is possible on the issue of the retirement bonus.  According to Mr.Christodoulides, "the decision was made taking into account the need for a long-term sustainability of public finances". He also said that the economy could be affected negatively in the case of public sector strikes.
"A hasty strike"
Christodoulides said the Cabinet considered the call to strike "hasty" and called on the unions to respond to the invitation by the Cabinet to discuss their concerns with the finance minister "in order to avoid problems that may arise from a decision taken on the basis of incorrect impressions". Asked about a later proposal to pay the lump sum in five equal installments, the spokesman said the Cabinet expected the unions to respond positively to a dialogue with the finance minister. The Cabinet also discussed the 2015 budget during Tuesday's session.
"We want to be officially informed"
Responding to information on the Cabinets decision for further dialogue on the retirement bonus taxation measures, public sector employees' unions said the they will wait for an official statement from the Finance Minister before deciding on whether they will lift the strike measures announced for next Friday.