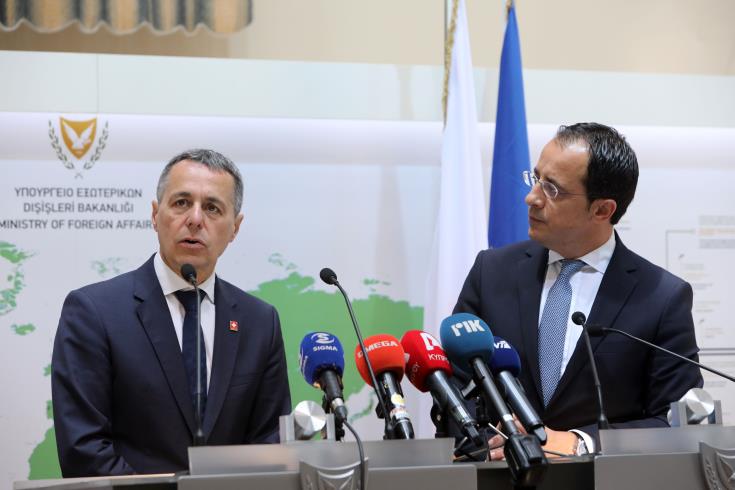 The latter is on an official visit to Cyprus
By Michalis Michael
Nicosia brings to the table all the means at its disposal as well as personalities which can, from their part, contribute positively towards Turkey, in order for the situation to be calmed within its EEZ, after intentions were stated for a second drilling from Ankara off the Gulf of Karpasia.
In this situation as it has been shaped up, the Cypriot issue is also involved, with the matter itself being thawed at the time and with the Cypriot diplomacy trying to bring Turkey back to the negotiations table. This is the message of readiness to engage in a debate in order for the Cypriot issue to be resolved on the basis of UN resolutions and EU principles -provided that Turkey's illegal activities in the Cypriot EEZ are terminated- is the message the Cypriot Foreign Minister Nicos Christodoulides sends to his Turkish counterpart Mevlut Cavusoglu, through the Swiss Foreign Minister Ignazio Cassis.
Mr. Cassis, who met today with Mr. Christodoulides in Nicosia, said he would talk with Mr. Cavusoglu to try and persuade him into finding the best way to relaunch the discussion on the Cypriot issue. Cyprus is the Swish Foreign Minister's first stop of his tour in the region. He will then visit Greece and Turkey to meet with the two countries' Foreign Ministers in order to discuss, inter alia, the Cypriot issue, in the light of the Turkish provocations within the Cypriot EEZ.
In statements following the meeting, Mr Christodoulides said that "I made it clear – and I think this is particularly important as Ignazio will visit Ankara in the next few days – that in order for negotiations to be relaunched, Turkey must first stop the illegal and provocative actions within Cyprus' EEZ, as they constitute a flagrant violation of the international and European law as well as of the sovereign rights of the Republic". Unfortunately, the signs are not positive, he continued, adding that instead Turkey has chosen to further escalate the challenges in the last few days, proceeding to a new, illegal drilling operation within the territorial sea of the​​ Republic.
"I have asked Ignazio to convey the message to Turkey that it is only through dialogue that a solution can be reached on the basis of the relevant UN resolutions and the principles upon which the EU is based. We are ready to engage in such a dialogue, as long as these unlawful actions within the EEZ of Cyprus are terminated", Christodoulides noted.
From his part, Mr. Cassis, referring to the Cypriot issue, pointed out that his country had the honor of hosting five rounds of negotiations in 2016 and in 2017 in Mon Peleran, Geneva and Crans-Montana. Commenting that "we were not far from a solution though we did not reach it", he pointed out that "it is very important for Switzerland to restate our offer to support this process with our good services", and stressed the need for the discussion to restart and for the appropriate conditions to be met. "I will certainly talk to our colleague in Turkey to try and persuade him into finding the best way to relaunch these discussions", he noted./ibna