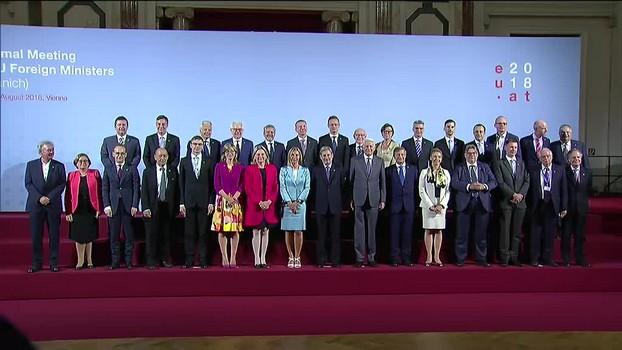 The Minister of Foreign Affairs, Nicos Christodoulides, participated in the Informal Meeting (Gymnich) of Foreign Ministers of the member countries of the European Union held in Vienna, which was completed today.
Among the issues discussed during the Summit were the latest developments in the Middle East, Transatlantic Relations, as well as the future of the Western Balkans.
During the debate on the Middle East, Christodoulides stressed the need for developing a more targeted and specific EU engagement in the Middle East, utilising the Member States of the Union neighbouring the region.
In this context, the Foreign Minister referred to the excellent relations of Cyprus with all the countries of the region and the tripartite cooperation mechanisms developed jointly with Greece, expressing at the same time Nicosia's readiness to work, also on behalf of Brussels , for a more direct and effective engagement of the EU with the states of the region.
In relation to Transatlantic Relations, Christodoulides referred to the common challenges that call for increased cooperation between the EU and the United States and noted the need for a continuous and honest dialogue, with full respect for possible different approaches.
On the sidelines of the Informal Meeting, the Foreign Minister had a meeting with his British counterpart,  Jeremy Hunt, during which the current state of affairs on the Cyprus issue was discussed, as well as the prospects for resuming the talks.
The two Foreign Ministers expressed hope that the mission of the Special Envoy of the United Nations Secretary-General for Cyprus, Ms. Lute, would lead to positive results and, in particular, to the brief resumption of talks, from where they were interrupted in Crans Montana.
Christodoulides and Hunt also exchanged views on UK's exit negotiations with the EU, recognizing the importance, despite the difficulties that have been experienced, of a speedy outcome for the Retirement Agreement.
The debate reaffirmed the two countries' common approach to the need for a strong EU-UK relationship in the aftermath of the Brexit era, and the need to fully safeguard the rights of those living and working within the British Bases./IBNA