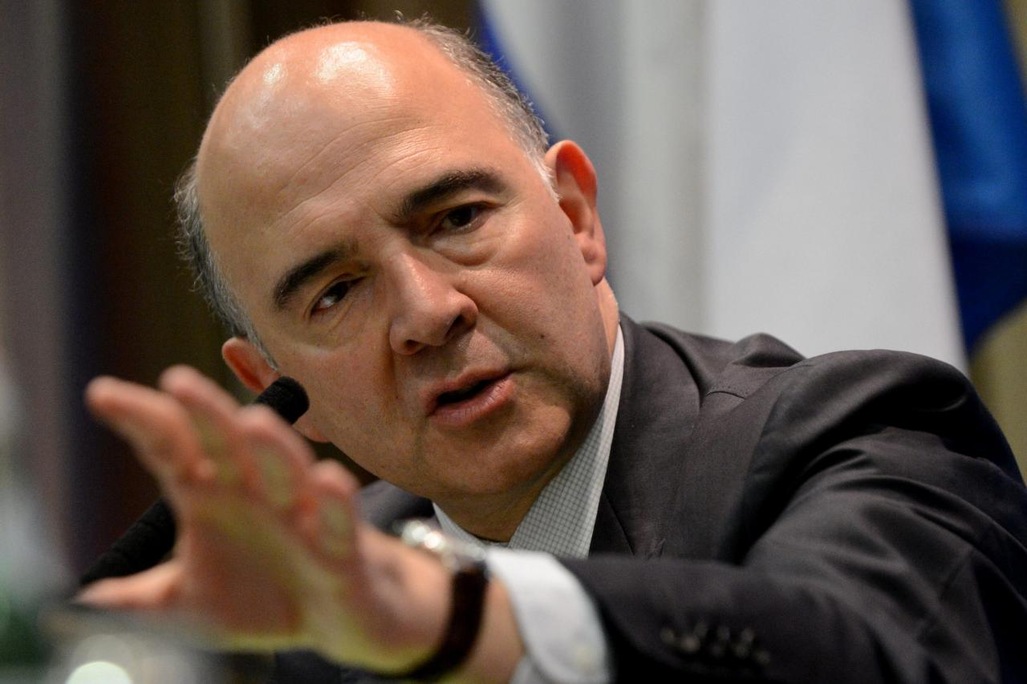 Nicosia, June 3, 2015/ Independent Balkan News Agency
By Kyriacos Kyriacou
Cyprus from an example to avoid has become an example to follow, Pierre Moscovici, EU Commissioner for Economic and Financial Affairs, Taxation and Customs Union said in an interview with Cyprus News Agency (CNA), adding the the Cypriot economy has made remarkable progress following two years of an adjustment programme implementation.
Moscovici advised against en early exit from the adjustment programme which in his words constitutes a protection for Cyprus, pointing out that there's still work to be done in terms of programme commitments, such as privatisations and public service reforms. He also noted that an Asset Management Company, the so-called bad bank, would not solve the pressing problem of non-performing loans, which have to be restructured even if an AMC was in place.
The small island-state came at the brink of collapse in early 2013 prompting the then newly-elected government to conclude on a €10 billion financial assistance programme that included a controversial conversion of banking deposits over €100,000 to equity to recapatalise Cyprus` largest bank, whereas the island`s second largest lender has been wound down. The banking system was decimated forcing the authorities to impose capital controls to avert a bankrun. However two years on, the country is slowly emerging from the crisis, the economy overperformed its initial bleak projections and has recorded economic growth after a 14-quarter recession.
"I would say that Cyprus has made remarkable progress since the programme was launched. I was there in 2013 when we had some dramatic decisions to take. I think that Cyprus has become an example to follow rather than an example to avoid and of course this is quite an achievement given the situation in 2013," Moscovici said.
He recalled that the island`s financial system which back in 2013 was "on the brink of ruins" has been stabilised and recapitilised, capital controls have been lifted, public finances are back on track, enabling Cyprus to tap the international bond markets, and public debt, which currently is at 107 per cent of GDP is set to be lower next year.
"So, yes my first observation is remarkable achievement," the French Commissioner said, stressing  however that "Cyprus now needs to ensure it stays in the course of reform for the remainder of the programme and beyond."
He cited public administration reform, privatisations and reducing non-performing loans stock which is among the highest in the EU as the key steps to be taken.
"Tackling the NPLs rate is vital to enable banks to start lending the economy and we need to have rules for borrowers and banks to sit down together and work debt restructuring agreements," he said.
Asked on an early exit economic programme, Moscovici, said Cyprus` programme still delivers results.
"I would prefer to invest in these results and make further progress because afterall key reforms are still under way," he said adding, "in a way, this programme for the moment is a protection for Cyprus."
Responding to a question, Moscovici said that Cyprus will not use all €10 billion from its financial assistance package, due to "impressive fiscal performance" and because banks covered their projected capital shortfalls without resorting to the €2.5 billion earmarked for bank recapialisation, except from the Cooperative Central Bank that has been nationalised as the government injected €1.5 billion from bailout funds to cover its capital shortfall.
"We now estimate that Cyprus` financing needs are lower than expected at the onset of the programme," Moscovici said.
No plan B for Greece
On Greece, Moscovici said there is no plan B other than a stronger reformed Greek economy within the euro area.
"Greece is a member of the euro area and I cannot think of this fact differently and we are working day and night towards a single solution to help the country overcome some significant challenges and difficulties and my hope is that we can in the days to come find an agreement," he said.
"I now that Greece and Cyprus remain close partners especially in trade but I believe that we should and we will, we are working on the idea, to avoid any kind of Grexit, we have no plan B, other than Greece with a reformed and stronger economy in the euro zone", he concluded.