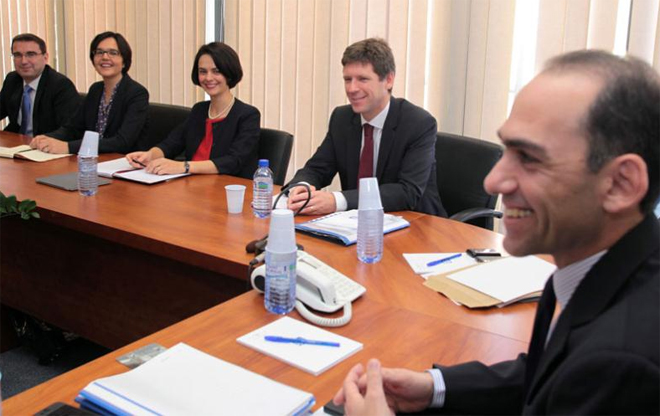 Review Hari Stefanatos
Finance Minister Harris Georgiades had a three-hour meeting with the Troika's representatives on the island, on Tuesday in regard with the fifth assessment of the implementation of Cyprus' adjustment program. The discussion also touched issues concerning the banking sector in the presence of Governor of the Central Bank Christalla Georghadji.
Troika's representatives also had a meeting with Labour Minister Zeta Emilianidou, to discuss the implementation progress of Guaranteed Minimum Income (GMI), the list of social benefits and the rationalization other allowances, while according to CNA they also met with a delegation from the University of Cyprus and the Department of Lands and Surveys, to discuss the matter of the completion of the University campus.
There is also a scheduled meeting between the Troika and the trade – unions SEK and DEOK, while at 17.00 the heads of Troika are expected to meet with President of the Democratic Rally Party  Averof Neophytou.
Finally, later in the afternoon, the three technocrats will be briefed by the Cyprus Tourist Organization and Hoteliers on the progress of tourism.
(Source: CNA)