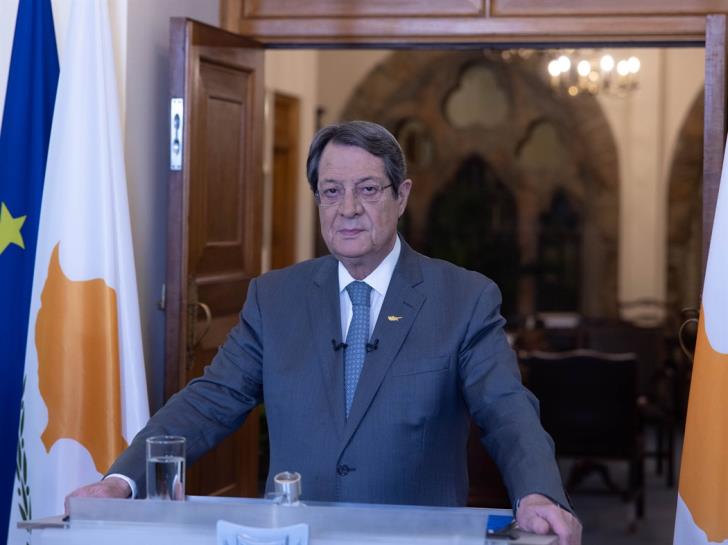 The positions of our side are clear, said Cypriot President Nicos Anastasiades upon exiting the offices of the Health Insurance Organization on Wednesday morning, referring to the Cyprus issue.
Nicos Anastasiades added that if Turkey attends the informal conference with a decision to find a solution that will protect all the people of Cyprus and that will not ignore the concerns of the Greek-Cypriots, then a solution can be found in the Cyprus issue.
Asked to comment on whether he had received information from the President of the European Council and the President of the European Commission about their meeting with the President of Turkey, Nicos Anastasiades said "Not yet, but in our last conversation with the European Council President we said we would receive information within days."
Asked what he would present to the UK Under-Secretary of State for Europe with whom he will meet later today, the President said he would state the clear positions of the Greek-Cypriot side as presented to the European Council and to each interlocutor, that is that the solution remains the one proposed by the UN resolutions, the unanimous decisions of the National Council, but also by the parameters of the UN SG based on the announcement of 25 November 2019, when they had a meeting with the UN Secretary General under his auspices, together with the leader of the Turkish-Cypriot side Mustafa Akinci."
To a journalist's remark that the UN SG's Special Envoy on the Cyprus issue Jane Holl Lute seems to have low expectations from the informal conference in Geneva, the President replied that he does not want to comment and added that expectations are shaped depending on the political will of Turkey. "If a decision is made to find a solution that will protect all the people of Cyprus, which will not ignore the concerns of the Greek-Cypriots, I do not see what the problem will be in finding a solution," he said.
Asked to comment on the criticism from the opposition amid the election campaign, but also in view of the informal conference on Cyprus and whether this in any way affects the issue of the informal conference, the President stressed that "it does not affect it even one bit and it does not concern presidential elections, it concerns parliamentary elections. I am not involved in the parliamentary elections and I have no intention of getting involved. This is a democracy; every political party, every political force can express itself freely," he said.
"What I want is to simply keep a low profile, for people to stop asking me to negotiate from thin air. This is not an in-between-us negotiation. It is with the Turkish side", said Nicos Anastasiades.
"My personal positions are very clear, I have stated them to the National Council and therefore it is not necessary every now and then for me to be publicly called to say what I will claim. I have no problem saying that. But what bothers me is what I have to accept. I think this goes a bit beyond what one would expect, especially when one is heading into negotiations. No one accepts without taking", the President of the Republic of Cyprus concluded. /ibna