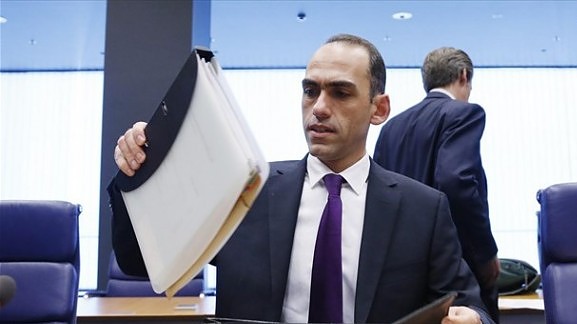 Just days before the European Commission's warning on Thursday (15/12) that fiscal risks in Cyprus remain significant, all the stakeholders in the country's economy had gathered in London to present their take on the current financial picture and the prospects for the future.
Speaking at an Economist event at the British capital's Stock Exchange, Finance Minister Harris Georgiades declared his commitment to the reforms and the fiscal discipline that would consolidate the Cypriot economic recovery.
It has been a "remarkable" recovery since the spring of 2013 crisis, noted Mr Georgiades, with "macroeconomic stability recovered and confidence restored", but challenges remain. He pointed to the high unemployment rate, the high public debt, the level of non-performing loans (NPLs) and the "sometimes problematic" bureaucracy.
Although he stressed that the projected high growth rates of this and next year are not a product of any "artificial boost" through "deficit spending" but of "real economic activity", he admitted that the reforms have somewhat stalled due to internal political resistance.
"There can be no excuse for any reform fatigue. I renew my call to everyone to support the reforms that our economy needs and our citizens expect and demand," the Cypriot Finance Minister told IBNA.
The head of the European Commission mission for Cyprus Daniel Daco said that the implementation of the programme is starting to deliver tangible results. Nevertheless, he stressed that Cyprus needed to tackle "legacy issues from the crisis" as a top political priority. He underlined the concerns by the huge amount of non-performing loans and the over-indebtedness of corporations and households.
The ECB mission chief for Cyprus Andreas Westphal praised Cyprus for taking "ownership" of the reforms, but he also warned against complacency. "There needs to be a significant effort to renew the reform potential that has faltered during 2016," he noted.
The Bank of Cyprus CEO John Hourican spoke of a "broad based recovery" in Cyprus, as it extends well beyond the traditionally strong sector of tourism, with real purposeful drives across the economy and with confidence restored.
The Deputy Minister to the President of the Republic of Cyprus Constantinos Petrides said that the government has been pursuing real and not "bubble" growth, within a strategy of making Cyprus a regional hub. "We rejected the false dilemma of austerity or growth and followed a reasoned economic policy which has restored confidence," remarked Mr Petrides./IBNA