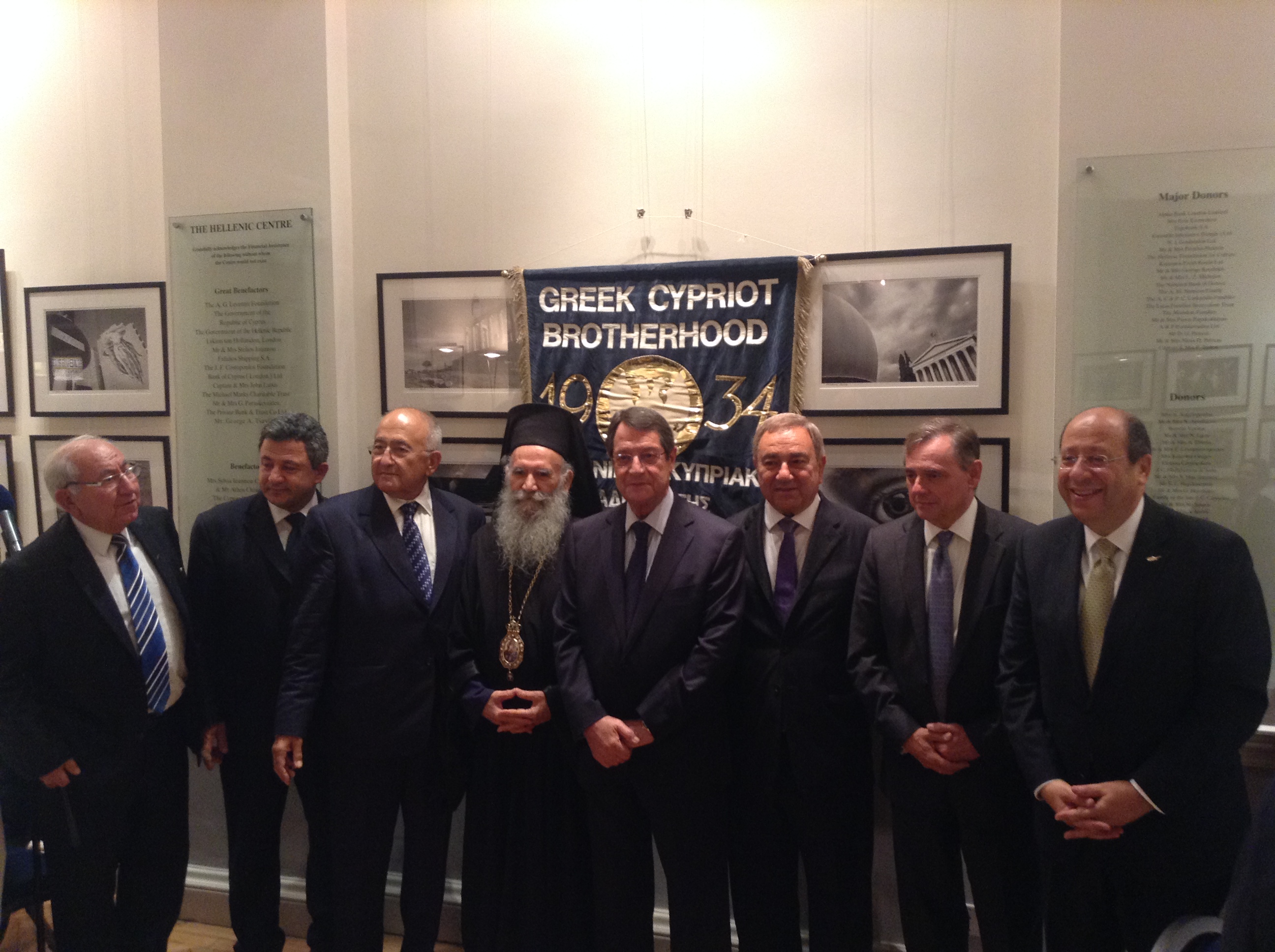 By Thanasis Gavos – London
Cyprus could exit the austerity memorandum of understanding signed with its creditors following the March 2013 financial crisis by the end of next year, said President Nicos Anastasiades during a short stay in London.
"I want to tell you that if everything goes ahead as planned, with no exaggeration or baseless optimism, I hope we will be in a position to find ourselves outside the memorandum before the end of 2015 – to be able to stand on our own feet," said the President, speaking to a small audience of prominent British Cypriots, on his way to New York for the United Nations General Assembly.
In a reference to politicians in Cyprus, Mr Anastasiades went on to say that for such optimism to be materialised everyone should realise that their contribution at this time is vital.
The event in was organised by the Greek Cypriot Brotherhood, an organisation that celebrates 80 years of existence in London and valuable contribution in alleviating hardship for Cypriot migrants, as well as in promoting Cypriot interests in the UK.
The unity in purpose demonstrated by the Brotherhood members and the UK community members in general was highlighted by the President of the Republic as an example for everyone to follow in Cyprus.
As far as the wider economy picture was concerned, Nicos Anastasiades pointed to the banks' recapitalisation with foreign money as a clear indication of trust returning to the country's beleaguered financial sector. "This is very important. It is a vote of confidence for the implemented policies," said the Cypriot leader.
He also made special reference to the positive comments by troika officials and upgrades by rating agencies, the decreasing spread of the government bonds, as well as the return to the markets under "very favourable terms."
In his reference to the Cyprus issue, President Anastasiades responded to recent statements by the Turkish leadership about Ankara wanting a settlement "yesterday" by saying that Greek Cypriots have been the ones yearning for a solution.
"If anyone wanted the solution over the last 40 years, regardless of who was in government, that was certainly the Greek Cypriots, who have been the victims of the Turkish invasion and are still paying the price of the occupation, as do the Turkish Cypriots," was the President's remark.
The dinner event at London's Hellenic Centre was organised in order for the Brotherhood to proclaim the President of the Republic of Cyprus as the organisation's Patron, an honour that Mr Anastasiades said he accepted with pride and respect.