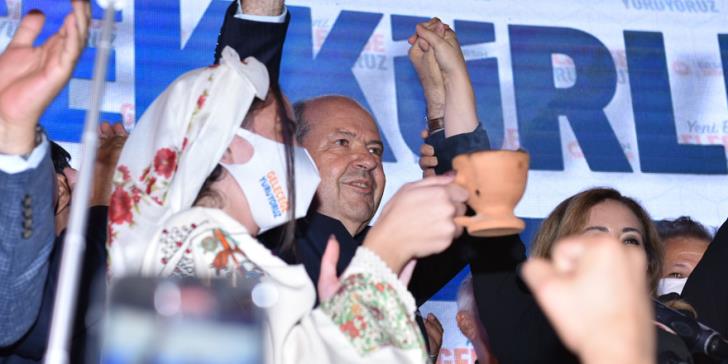 Ersin Tatar is the winner of the second round of the "Presidential" election in the Turkish Cypriot community, according to the final results where the current "Prime Minister" and Ankara's favorite received 51.74%, while incumbent "President" Mustafa Akinci received 48.3%.
According to the electoral commission, out of a total of 199,029 voters, 133,953 voted, with the turnout climbing to 67.30% from 58.21% recorded in the first round of elections, which indicates the great mobilization that took place for voters to go to the polls.
Thus, Ersin Tatar received 67,385 votes and a percentage of 51.7% while his opponent Mustafa Akinci received 62,858 votes and a percentage of 48.26%. In the first round of the October 11 elections, Tatar had won 32.3% while Akinci 29.8%.
The end result caused great frustration for Mustafa Akinci and his supporters. In his first statements, he announced his retirement from politics, alluding to the Turkish interventions in the final result.
Recep Tayyip Erdogan and Mevlut Cavusoglu hastened to greet Ersin Tatar's victory and express their support to him and the Turkish Cypriots.
For his part, Ersin Tatar, immediately after the announcement of the result, hurried to send his thanks to Tayyip Erdogan, but also to the Deputy Prime Minister of the Turkish Government Fuat Oktay, declaring "faith in Turkey".
According to analysts in Cyprus, the assessment is that the new Turkish Cypriot leader will respond positively to the UN Secretary General's call for talks in the framework of a new informal Pentamer Conference, highlighting however, Ankara's rigid positions and pushing the process on new paths, regarding the form of the solution./ibna