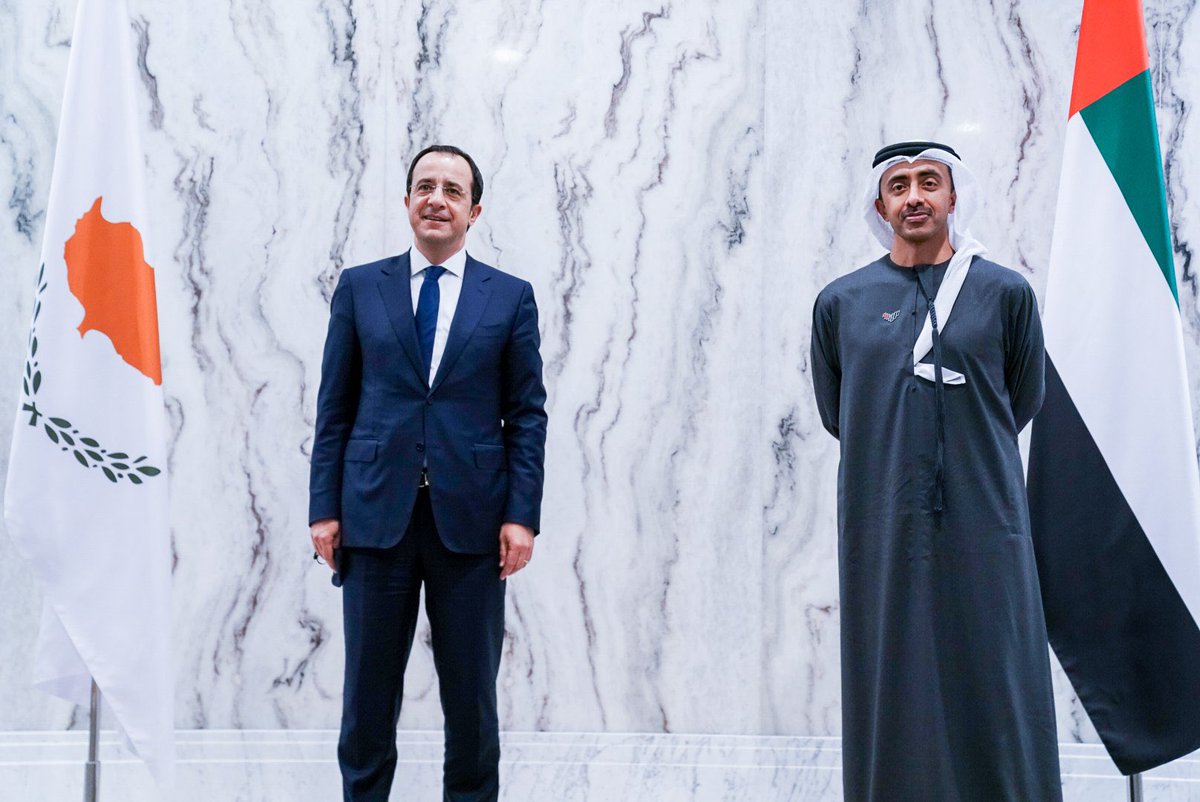 The Minister of Foreign Affairs and International Cooperation of the United Arab Emirates, Sheikh Abdullah Bin Zayed Al Nahyan, who met on Monday with the Minister of Foreign Affairs Nikos Christodoulides, underlined the Emirates' determination to promote cooperation between the two countries.
According to the Emirates News Agency, the two ministers discussed the prospects of promoting relations between the two friendly states in all areas and underlined the steadily growing co-operation between their countries.
They also discussed recent regional and international developments, in particular the situation in the Eastern Mediterranean and ways to ensure security and stability in the region.
The UAE Foreign Minister reaffirmed the depth of relations between the two countries and underlined the Emirates' determination to promote cooperation in the common interest of their peoples.
The two ministers also discussed the global fight against the COVID-19 pandemic and the importance of strengthening international cooperation to ensure equitable access to the vaccine for every country in the world.
According to an announcement by the Ministry of Foreign Affairs of the Republic of Cyprus, Messrs. Christodoulides and Abdullah Bin Zayed Al Nahyan agreed on the need to further strengthen regional cooperation on the basis of good neighborly relations, without exclusions, and in this context stressed the importance of the UAE's interest in participating in the East-Med Gas Forum (EMGF), as well as the realization in the near future of the first official Cyprus – UAE – Greece tripartite meeting.
Moreover, as the Foreign Minister wrote on Twitter, the meeting will pave the way for the transformation of the strong bilateral relations between the two countries into a strategic cooperation. "For the benefit of our peoples, for peace, security and prosperity in the region", Christodoulidis wrote.
The Emirates Agency also refers to the meeting that Nicos Christodoulides had with the President of the Federal Council of the United Arab Emirates, Saqr Ghobash.
Sagr Ghobash spoke about the friendly relations between the Federal Council and the House of Representatives in Cyprus and said that there is a need for a Memorandum of Understanding for their parliamentary cooperation, in addition to strengthening the role of joint parliamentary friendship committees.
He also noted that the parliamentary friendship committee between the two countries will convene in the first quarter of 2021, stressing the importance of improving their co-ordination during international parliamentary events.
Nicos Christodoulides, as reported, conveyed an invitation from the Speaker of the House of Representatives of Cyprus to Ghobash to visit Cyprus as the head of a parliamentary delegation, to discuss ways to strengthen their parliamentary ties./ibna