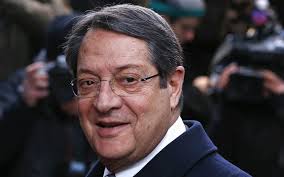 Review Hari Stefanatos
The determination of both countries to further enhance their bilateral relations, deepen the mutually beneficial cooperation and build on their strategic relationship, outlined in the joint statement issued after the meeting of the presidents of Cyprus and Egypt, Nikos Anastasiades and Abdel Fattah el -Sisi. The Egyptian President has accepted the invitation of the Cypriot counterpart and by the end of the year he will visit Cyprus. The half-hour talks between the two leaders in the presence of Foreign ministers and other service agents was held in a very good atmosphere.
As diplomatic source said that the Egyptian President expressed gratitude to President Anastasiades, because he was the first non-Arab leader to visit the country and acknowledged the risk surrounding the Islamic fundamentalist for Egypt and the region.
The press release also states that the two presidents "discussed issues of mutual interest, including the political transition in Egypt, the Cyprus negotiations, the recent developments in the Middle East (Syria, Iraq, Libya, Gaza) and their impact on regional security and economy". Both countries highlighted "the crucial importance of cooperation between the moderate forces to tackle regional challenges and terrorism in all its forms. Cyprus expressed its support for the road map, as was decided by the Egyptian people. Egypt reaffirmed its strong support for the resolution of the Cyprus issue, based on the resolutions of the Security Council of the UN '.
The two countries reaffirmed the excellent state of relations and expressed their resolve to further deepen the mutually beneficial cooperation and to build the strategic partnership between the two countries.
Regarding the visit of Al Sisi to Cyprus, which will be the first, "the two sides agreed that it will help promote bilateral relations in all fields. The two presidents expressed their commitment to intensify the exchange of visits and consultations between the two governments, with a view to conclude bilateral agreements currently being discussed by the two sides.
Both sides stressed that the discovery of significant hydrocarbon reserves in the eastern Mediterranean could and should act as a catalyst for wider regional cooperation, thus contributing to peace and stability in the region. In conclusion, the two leaders agreed to further promote cooperation between the EU and the Arab world.
Energy matters, the Lebanese-EU relations, and counter-terrorism was on the agenda of the meeting of the prime minister of Lebanon Tammam Salam with President Anastasiades.
The prime minister of Lebanon thanked Cyprus for the supply of arms to his country for fighting the terrorist threats (to be delivered in a few days) and asked from president Anastasiades to exert his influence to European leaders to do the same.