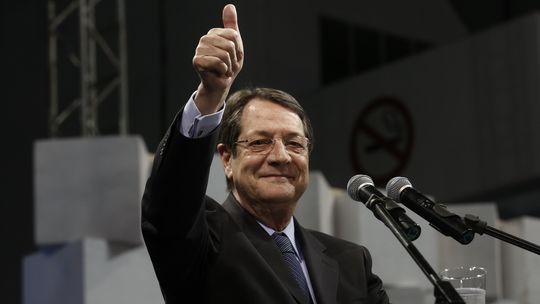 By Kyriacos Kyriacou – Nicosia
The course of the Cyprus economy has already been reversed and is on the right track, according to the country's President Nicos Anastasiades, who is in talks with big foreign investors over the last months. The President said that his government is making every effort to help Cyprus recover from the financial crisis. "Despite the short time since the derailing of the public finances and the shock the banking system suffered, the course of the economy has already been reversed and is on the right track, albeit at the start", President of the Republic has stated
In an address read out at the 19th graduation ceremony of the University of Cyprus, President Anastasiades said the banking sector was gradually stabilising, total deposits have recorded a rise for the first time since December 2012, and the Bank of Cyprus recorded profits in the first quarter of 2014, while at the same time home transaction restrictions have been lifted.
Positive evaluations by troika
President Anastasiades pointed out that there have been positive credit ratings after 22 consecutive downgradings, and Cyprus has obtained four consecutive positive evaluations from the Troika of international lenders, as well as words of praise from international analysts and media, adding that the most important and indicative reassurance was the successful opening to international markets.
The President noted that after the hard work of the past year by the government, the political leadership, the social partners and the society, averting the total collapse of the economy, the country was now on the way to recovery, and pointed out that efforts to attract new investments, create new jobs, and promote prospects for the exploitation of Cyprus` hydrocarbon deposits would continue.
Referring to the University of Cyprus, President Anastasiades praised its work and successes, as well as the fact that it has managed to secure foreign funding for many projects.
Bank of Cyprus
Meantime, the country's biggest bank,"Bank of Cyprus", where a haircut on deposits was implied in exchange for a euro-bailout agreed in March 2013, has announced that it will discuss funding and capital options to help expedite restructuring and strengthen itself.