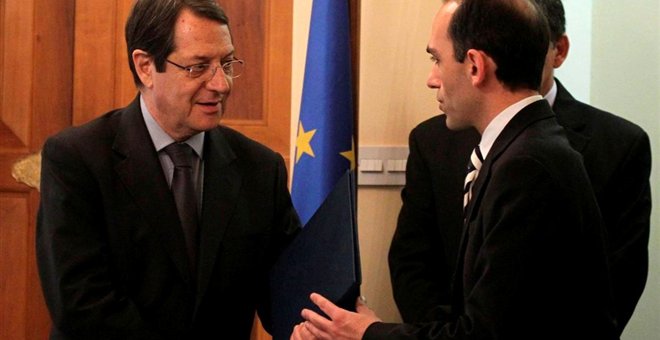 By Christos Meliopoulos – Nicosia
For the next ten days (until 8th November) the fiscal restructuring progress and the financial system of Cyprus will once again come under the scrutiny of the international creditors' troika. The latest mission arrived on Tuesday in a country where much has been done but more is still left to do.
President Anastasiades expressed his confidence that the second review will return "equally important and positive" results as the first assessment did three months ago.  Economic analysts agree that the fiscal policy implemented by the fervent free market advocate Harris Georgiades is producing or is well placed to produce results, with special praise for his insistence on "cuts and not taxes".
But the troika of creditors is bound to pay particular attention to the new landscape of the banking sector and how viable the restructuring process will be in the long run. The Bank of Cyprus strategy under its new board and John Hourican as its chief executive is expected to be the focus of this latest review.
"This is an unprecedented situation that has happened to Cyprus and to the Bank of Cyprus and I think that, while the problems are actually quite clear, the solutions are as of yet untested, and not clear to me given that I haven't yet taken full possession of the job," Mr Hourican told reporters after meeting President Anastasiades on the day of the troika arrival.
Concerns such as the non performing loans of the bank or the capital that has flown out of the country make it rather unlikely for troika to agree on lifting all capital controls any time soon. The controls continue to be a major contributing factor to the doubts that the international markets and analysts have regarding the recovery of Cyprus. Finance Minister Georgiades has said that around the end of the year all restrictions should have been lifted, except the ones regarding money transfers abroad for non commercial reasons – these would have to be re-evaluated at that point.
The other contentious subject on the troika's agenda is the privatisations of state-controlled enterprises which the three-year bailout programme estimates could generate 1.4bn euros.
"As in every such inspection there will be some difference of opinion. But overall it would be hard for talks to break down or for significant disagreements to overshadow the visit," said economist Yiannis Savvides.