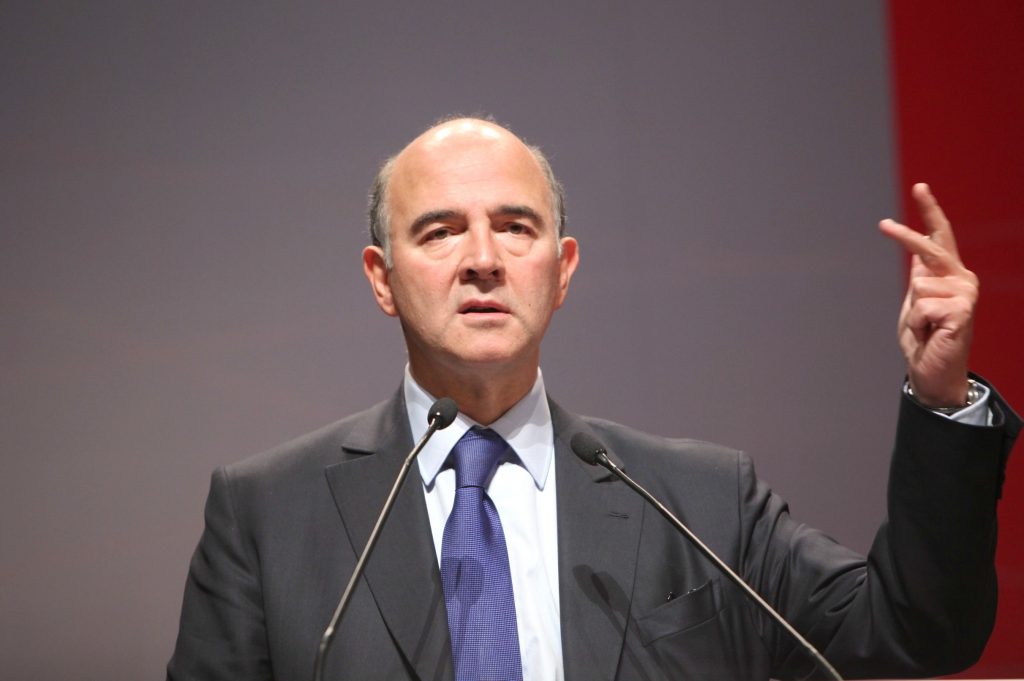 Nicosia, September 27, 2016/Independent Balkan News Agency
Cyprus' economy is recovering, however it is still fragile, with risks linked to both the weak external environment and domestic imbalances, European Commissioner for Economic and Financial Affairs, Taxation and Customs Pierre Moscovici has said.
Speaking to a group of Cypriot journalists attending a seminar in Brussels on Tuesday on "Single Market: Tax Justice and Tax Fair Competition", Moscovici referred also to Greece, noting that the Commission's wish is to strike a deal by the end of the year in relation to the Greek debt "with IMF on board".
The Commissioner, referring to Cyprus, pointed out that the key issues remain its level of private debt and non-performing loans. The high private debt weighs on consumption and on the ability of businesses to invest and grow, he said.
"It is one of the reasons why Cypriot banks are burdened with the highest level of non-performing loans in Europe," he explained. This, he added, limits the lending capacity of banks, weighs on their profitability and ultimately on their capital adequacy. It is therefore vital to implement and ensure the full effectiveness of the insolvency and foreclosure framework, improving them where necessary, he said.
The Commissioner acknowledged the fact that the country has made significant progress during the programme, saying that Cyprus downsized and stabilised its financial sector, consolidated its public finances and initiated major structural reforms. Of course, he stressed further, "we know that this necessary adjustment had a high social cost".
Today, he went on to add, Cyprus` economy is recovering, thanks to strong tourism activity and private consumption, and supported by declining prices. However, he made it clear that the recovery is still fragile, with risks linked to both the weak external environment and domestic imbalances and pointed out that to improve growth and employment prospects, Cyprus needs to complete the pending structural reforms as well as implement fully the Action Plan for Growth.
On the fiscal front, he said that Cyprus may have a primary surplus of 2% of GDP in 2016. It is crucial that this prudent fiscal stance is maintained in the coming years in order to bring down public debt from its currently high level. Cyprus is out of the programme and its excessive deficit procedure has been closed, he added, noting that nonetheless fiscal risks remain significant, there is no room for complacency and fiscal discipline should be maintained.
Furthermore, Moscovici made special reference to unemployment in Cyprus, noting that it is decreasing, and could fall to about 12% by the end of this year.
"This is good news, though the still very high youth and long-term unemployment call for strong and targeted employment policies," he noted.
The EU Commissioner noted that Cyprus has tremendous growth potential, pointing out however that it still needs to implement some key reforms in order to unlock that potential. "Much remains to be done to modernise public administration, improve the business environment and the enforcement of property rights, attract foreign investors through privatisation, and stimulate innovation. These reforms are necessary for Cyprus to fully reap the benefits of difficult adjustment of the last few years and to secure strong economic foundations for the future," he said.
Greek deal by end 2016?
———
Invited to comment on Greece's progress, the Commissioner said that "progress is being made" and expressed the belief that a Grexit should be avoided. Today, he said, "we have no fear for a Grexit."
"We are at the beginning of a success story. My wish and the Commission's wish is to find a global deal with IMF on board as to public debt this year… We are on the way but of course there is much to be done" he said.
Source: Cyprus News Agency